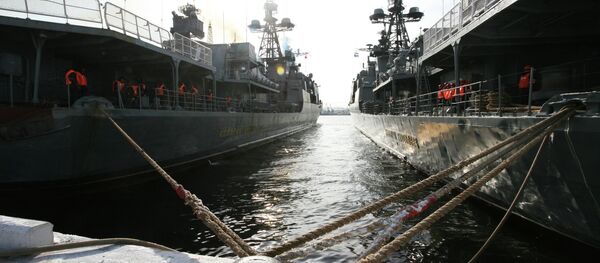 MOSCOW (Sputnik) –  Russian Navy cruisers from the Pacific Fleet have fired supersonic Moskit cruise missiles during exercises in the Sea of Okhotsk, a spokesman for the Russian Ministry of Defense's Eastern Military District said Friday.
"Ships from the Primorsky Joint Forces entered the sea to complete a set of tasks after transferring from the Sea of Japan into the southern region of the Sea of Okhotsk. The cruisers held a number of exercises in air defense and developed skills in firing missiles in the region," Capt. 1st Rank Roman Martov said.
On July 6, Martov announced missile firing drills for Russian Pacific Fleet ship groups in the Pacific Ocean, with the participating warships set to practice tackling a simulated enemy and conducting counterattacks.
According to the Russian Defense Ministry, Russia will hold at least 4,000 military drills throughout 2015.