While Eurozone officials study the latest proposals from the EU, ahead of a finance ministers' meeting on Saturday, they will have to consider a report from the European Stability Mechanism (ESM) Board, which will make difficult reading.
Sputnik has seen a letter from Jeroen Dijsselbloem, Chairperson of the ESM Board of Governors, in which he states, starkly, that Eurozone ministers have been asked to: "assess the existence of a risk to the financial stability of the euro [and] … whether public debt of the Hellenic Republic is sustainable."
The primary role of the ESM is the stabilization of the whole of Europe and its board could recommend sacrificing Greece to the Mediterranean waters of uncertainly in order save the rest of the Euro family from drowning.
Unsustainable Debt Has Global Consequences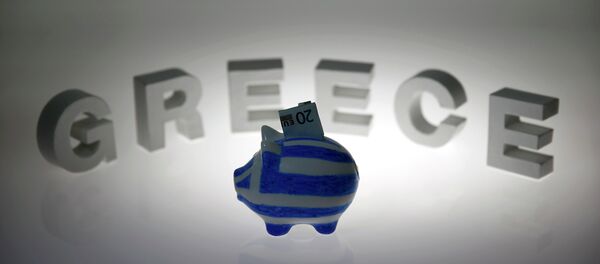 The IMF last week said the Greek debt was unsustainable. Its total debt stands at $358 billion, while its European comes to a staggering $269 billion, leaving the country with a debt-to-GDP ratio of 177 percent.
Angus Campbell, a financial expert and Senior Analyst at online foreign exchange broker FxPro in London told Sputnik: "The risks of Greece leaving the Eurozone are very considerable and are very significant in that there are much bigger risks than to just Greece itself.
"There are much wider ramifications of no deal being done and Greece being forced out of the Eurozone. I think while there are very high probabilities that there is no deal, I think that – certainly on both sides – everybody will be doing their best to try and get some form of agreement."
Greek Offers Similar to Those Turned Down in Referendum
Campbell said the proposals being put forward by Greece were not dissimilar to those on which the no referendum was based – meaning there was hardly any change in the Greek position.
The main points on offer from the Greeks are:
• A tax rise on shipping companies
• The privatization of ports
• The sell-off of the government's remaining shares in telecoms giant OTE
• Unifying VAT rates at standard 23%, including restaurants and catering
• Phasing out solidarity grant for pensioners by 2019
• $332 million of defense cuts
• Scrapping 30% tax break for wealthiest islands
Campbell told Sputnik that, because the list is substantially what the Greeks voted no to in the referendum, it was unclear how another deal could be done. "How you can possibly envisage a deal being done as a result is quite impossible.
"But, you have to appreciate that the risk of no deal being done is significant. It goes beyond just the borders of Greece and the Eurozone. We are currently experiencing slowing global growth and political uncertainty in various regions," Campbell told Sputnik.
"The last thing the Eurozone needs is a destabilizing period. Greece is very closely connected with debts being owed to Easter European countries and other countries outside the Eurozone. The Eurozone won't want that sort of destabilization."