VIENNA (Sputnik) — The extension of the EU joint plan of action until July 13 will allow the Iran nuclear talks to continue through Monday, but the P5+1 group of international mediators, comprising of Russia, China, France, the United States, the United Kingdom and Germany hopes to conclude them before that date, a senior western diplomatic source told Sputnik on Friday.
"It makes it possible but we really hope to conclude much before," the senior western diplomatic source said when asked whether the extension of the joint plan of action (JPOA) by the EU until July 13 means that Iran Vienna talks are also extended until Monday.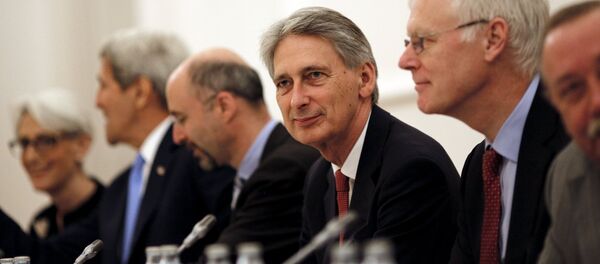 The deadline for reaching the final agreement, initially ser for June 30, has been repeatedly postponed.
Having missed two of the self-imposed deadlines in 10 days, the group of six world powers is attempting to reach a mutually acceptable final deal with Iran curtailing its nuclear development activities in exchange for a gradual sanctions relief.
The sides appear to be deadlocked over the UN arms embargo, whose removal is advocated by the Iranian delegation as part of the aforementioned sanctions relief.
The European Union said Friday it would extend its suspension of sanctions against Iran until July 13 amid ongoing negotiations in Vienna on the Islamic Republic's hotly-debated nuclear program.
The United Nations introduced sanctions against Iran in 2006 over fears it was developing nuclear weapons under the guise of a civilian nuclear energy program.
"To allow more time for the ongoing negotiations to reach a long term solution to the Iranian nuclear issue, the Council has prolonged until 13 July 2015 the suspension of EU restrictive measures agreed in the Joint Plan of Action with Iran dated 24 November 2013," a Council of the EU statement reads.
The United States will also extend its sanctions relief for Iran through July 13 amid the ongoing nuclear negotiations in Vienna, the US Department of State said Friday.
"To allow for the additional time to negotiate, we are taking the necessary technical steps for the measures of the Joint Plan of Action to remain in place through July 13," a senior State Department official said.
Russian President Vladimir Putin, speaking at the closing of the Shanghai Cooperation Organization summit in Ufa, called for the "full scale lifting" of sanctions as soon as the deal is reached.
Iranian Foreign Minister Mohammad Javad Zarif intended to stay in Vienna until Monday, suggesting that tense last-minute talks in the Austrian capital would continue over the weekend.
Officials and sources close to the talks have maintained that the deal was close to completion.