MOSCOW (Sputnik) — Greece's exit from the eurozone remains possible unless its international lenders come up with the viable relief program, the Chairman of the Greek Parliamentary Committee on Economic Affairs told Sputnik Turkey on Friday.
On Sunday, over 61 percent of the Greek public voted "no" in a referendum on whether the country should accept deeply unpopular creditor demands for spending cuts and tax increases in exchange for another loan, triggering renewed speculation about Greece's possible exit from the eurozone.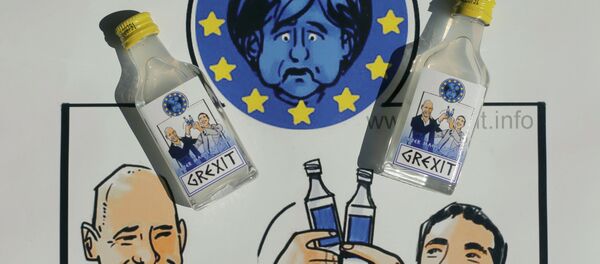 "The probability of the exit of our country from the eurozone will remain relevant until we are presented with an effective and socially fair program to overcome the crisis," Stefanos Samoilis said.
The country's ruling Syriza party member added that, at the moment, "the ball is in the EU's half of the field," adding that the near future will demonstrate whether the bloc respects the democratic will of the Greek people and offers a solution beneficial to everyone.
Greece's next payment of $3.9 billion is due July 20 to the European Central Bank. Greece's overall debt stands at about $350 billion.
On Sunday, all EU leaders are expected to gather in Brussels to discuss the issue and agree on further steps to resolve Greece's debt problems.