WASHINGTON (Sputnik) — The testing of the upgraded US atomic gravity bomb is part of the United States preserving its nuclear deterrent and umbrella in anticipation of never having to use it, a spokesperson for the National Nuclear Security Administration (NNSA) told Sputnik on Friday.
"As a rule, we continue to make sure that we can provide our allies with that [nuclear] umbrella and making sure we have the most safe, secure arsenal in the hopes we never use it," the spokesperson said.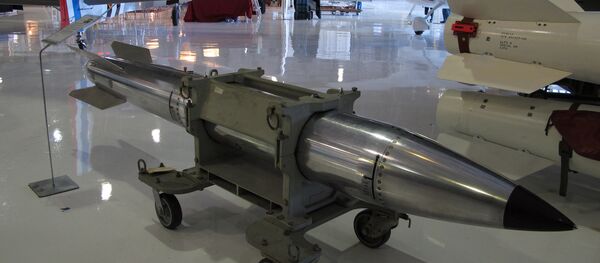 On July 1, 2015, the US Air Force and NNSA successfully completed the first flight test of a non-nuclear B61-12 gravity bomb in Nevada.
The NNSA described the flight test as evidence of the US commitment to maintaining its nuclear deterrent and providing assurance to its allies.
The US nuclear umbrella guarantees military protection for non-nuclear weapons states. All NATO members are under the US nuclear umbrella as well as Japan, South Korea and Australia.