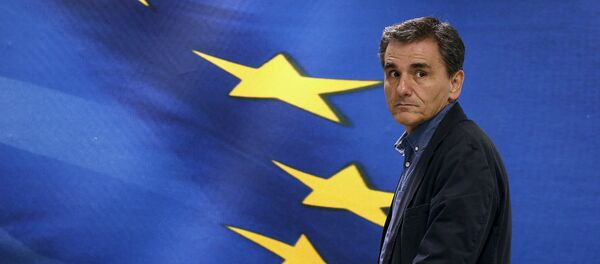 ATHENS (Sputnik) – The temporary closure of Greek banks cannot be compared with similar events in Cyprus two years ago, newly appointed Greek Finance Minister Euclid Tsakalotos said Friday.
Banks in Cyprus froze client accounts for nearly two weeks in March 2013 as the country negotiated with EU-IMF creditors to restructure its $13-billion debt. Greek banks have been shut down since last Monday after the European Central Bank (ECB) announced it would stop providing liquidity.
"The damage caused by capital controls in Greece can be restored quickly, because they are more limited compared with Cyprus," Tsakalotos said.
He and Prime Minister Alexis Tsipras presented their reform proposals to the three key international lenders – the International Monetary Fund (IMF), eurogroup nations and the ECB on Thursday.
Tsakalotos, addressing the Hellenic Republic parliament, observed that negotiations will be "very difficult," but lauded the government for taking "great pains to redistribute the burden of the crisis."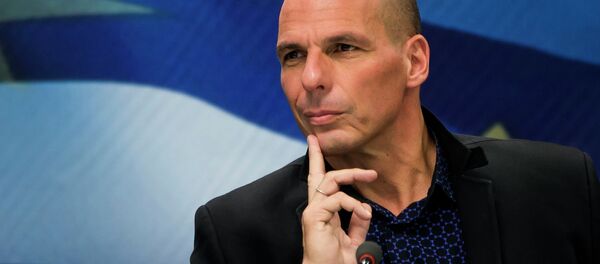 "Everyone recognizes that Greece's debt is unmanageable," he added.
IMF Managing Director Christine Lagarde recently reaffirmed the institution's findings that Athens would be unable to repay its $350-billion debt, of which $270 billion is owed to the EU-IMF-ECB lenders, without significant write-offs.
Cypriot President Nicos Anastasiades welcomed Athens' new proposal.
The offer agrees to adopt spending cuts, tax hikes and pension reforms in exchange for a three-year $59-billion European Stability Mechanism loan.
The Eurogroup ministers are due to meet on Saturday to decide on whether to accept Tsipras' proposal, followed by a 28-member EU summit on Sunday.