Right Sector fighters have been given shoot-to-kill orders in case they are stormed by police and National Guard troops, a Ukrainian Inter television correspondent who is on location said on Sunday night.
The apparent orders follow Right Sector leader Dmytro Yarosh's arrival in Mukachevo, following a deadly standoff which killed up to three and injured nearly a dozen including civilians in a conflict alleged to be over cigarette smuggling. Right Sector fighters have also been withdrawn from the Donbass, where they have been fighting alongside the Ukrainian military, by Yarosh's orders, an apparent battalion leader told Ukrainian Hromadske television.
"Regional police and National Guard forces have been concentrated in Mukachevo, which is surrounded by helicopters. According to the latest information, Right Sector fighters have given shoot-to-kill orders in case they are stormed," the Ukrainian television correspondent on location said.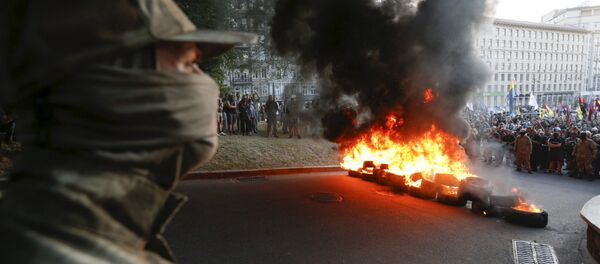 Although Ukraine's Security Service (SBU) said that it would not negotiate with the Right Sector fighters, negotiations are apparently ongoing nevertheless.
Right Sector political activists are also holding rallies around Ukraine, including outside the Presidential Administration building in Kiev. Their demands include a law allowing for a president's impeachment, early elections, and an end to the ongoing constitutional amendment process, according to Verkhovna Rada deputy Olha Bohomolets, who talked with the protesters.
The group earlier called for the resignation of Ukrainian interior minister Arsen Avakov, who they consider complicit in the mysterious death of group coordinator Oleksandr Muzychko (also known as Sashko Bilyi) in March 2014.
Right Sector leader Dmytro Yarosh was appointed to be an advisor to the country's military in April, when his group was also legally formalized.
Ukrainian President Petro Poroshenko has not yet issued any statements on the situation.