BRUSSELS (Sputnik) — Even partial cancellation of the Greek debt to its international creditors is impossible, the Eurogroup said Sunday in a draft agreement, obtained by RIA Novosti.
Athens owes about $270 billion to its main international creditors. Earlier in the day, the eurozone finance ministers convened to discuss whether there is a possibility to start talks on a new bailout program for the country.
"The Eurogroup stresses that (nominal) haircuts on the debt cannot be undertaken," the document reads.
There are "serious concerns" regarding the sustainability of Greece's debt which is due to the easing of policies during the last year, the agreement added.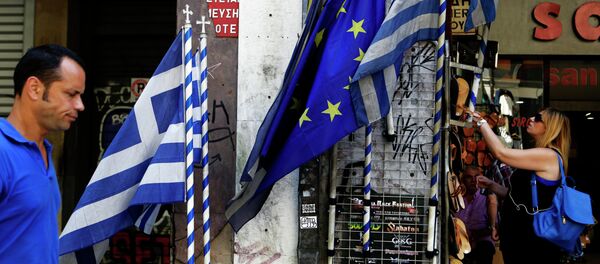 The Eurogroup is ready to consider "smoothing" Greece's debt, according to the document.
The measures aimed at easing Greece's debt burden will be conditional "upon full implementation of the measures to be agreed in a possible new agreement" between Athens and its international lenders, the document stressed.
Greece has long been trying to unlock additional financial aid in order to avoid defaulting on its immense debt which stands at some $350 billion.
In late June, Greece rejected a bailout agreement proposed by its money lenders.
On Thursday, Athens presented a revised economic reforms plan that includes some of the creditors' requirements.