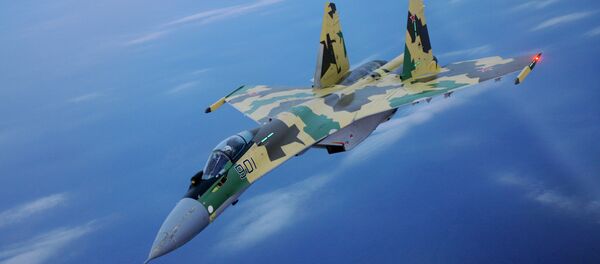 Crews of the shipborne fighter regiment of the Russian Northern Fleet aviation began on Monday practical training at the NITKA range in Crimea, the press-office of the fleet reported.
"Three Su-25UTG military training aircraft and three Su-33 carrier-based fighters were redeployed from the Severomorsk-3 airfield of the Northern Fleet to the Saki airfield. The aircraft will be involved in training flights. In addition, 70 servicemen of the flying and technical personnel of the shipborne fighter regiment of the Northern Fleet arrived in Crimea. Among them are five young pilots who have no experience in carrier take-off and landing," the report read.
The training sessions will take several weeks and include 10 flying shifts.
After the practice is completed the pilots will return to their deployment site. They will begin preparation for flights to the Admiral Kuznetsov aircraft carrier.
The NITKA range is a special aviation training facility which imitates the deck of an aircraft carrier. It is used for practicing carrier take-off and landing.