MOSCOW (Sputnik) — Russia is expecting a reaction from the United States on comments that the agreement with Iran should resolve concerns about the European missile defense system, Russian Foreign Minister Sergei Lavrov said Tuesday.
"I'll note such a factor as broad context — we all remember when in April 2009 in Prague President [Barack] Obama said that if the Iranian nuclear issue was settled, there would be no need in creating an air defense system in Europe. That is why today we have drawn the attention of our US colleagues to this fact. We shall be waiting for the reaction."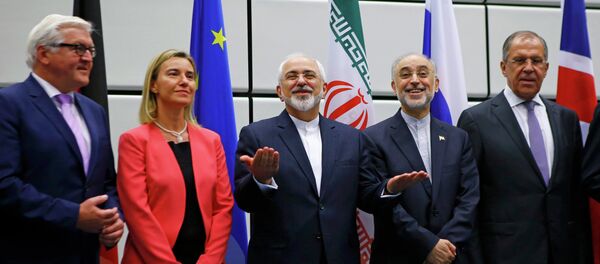 The historic agreement was reached in Vienna on Tuesday after over two weeks of strenuous talks following several years of intermittent negotiations. It will limit Iran's nuclear work in exchange for the easing of international economic restrictions.
The agreement on the Iranian nuclear program between the P5+1 group and Tehran will have a positive effect on Moscow-Tehran relations without the interference of Brussels and Washington, Lavrov said.
The deal is also expected to create new prospects for the development of Russian-Iranian relations, incl. some major joint projects

— MFA Russia (@mfa_russia) 14 июля 2015
"Our economic ties will, no doubt, receive a new impulse because there will be no more limitations that our Western partners have introduced through their unilateral illegitimate sanctions against Iran, and there will be no situation where US and EU attempts to implement unilateral sanctions hinder our companies in carrying out financial transactions and realizing other projects together with Iranian partners," Lavrov said at a press conference in Vienna.