ATHENS (Sputnik) — On Monday, Eurozone leaders reached an agreement on a third bailout package to Greece, estimated at $95 billion over the next three years.
According to the agreement between Athens and its lenders, the Greek parliament must approve unpopular austerity measures – including pension reforms and VAT increases – by the end of Wednesday in order to unlock the new bailout program.
The bill, submitted to the Parliament by the Greek Finance Ministry Tuesday, includes statements regarding financial measures and regulates the issues of legislation in the sphere of social security.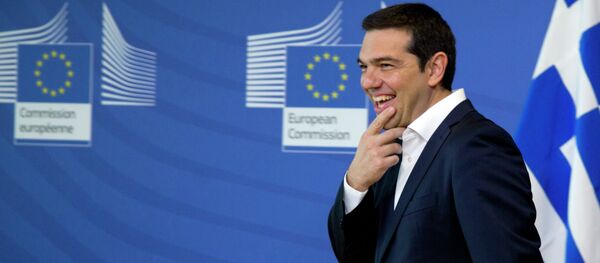 The bill increases value added tax and other taxes, and reinforces the independence of the Greek statistical authority, ELSTAT.
It also prescribes stricter criminal liability for tax evasion, introduces a new tax on incomes from TV advertising and a temporary tax on incomes higher than €500,000 ($550,300) a year.
The austerity reforms saw criticism from both, Greek lawmakers and the public. Some 30 lawmakers from the ruling Syriza party threatened to oppose the document.
On Wednesday, Greek public servants in Athens will hold a 24-hour protest strike. The country's pharmacists are also planning a protest action against the agreement.
On Tuesday, Greek Prime Minister Alexis Tsipras said he was forced to choose between tough terms proposed by the international lenders and bankruptcy that would be followed by Greece's exit from the Eurozone.