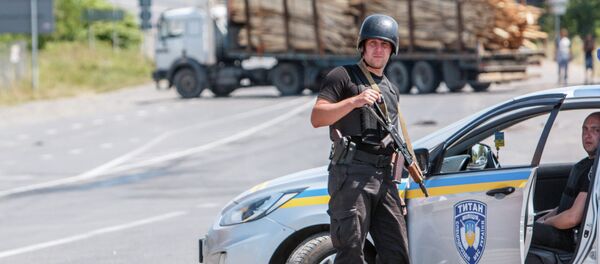 In the wake of a violent skirmish with police in the Western town of Mukachevo, the hardline union published a manifesto that practically equals to the declaration of war.
On July 11, Right Sector militants engaged in a fight with local police and business structures in Mukachevo, which left three people dead and 13 injured, which Der Spiegel described as "opening the second front".
Kiev declared a manhunt operation, and the Right Sector in response staged rallies in Ukrainian towns demanding the resignation of the interior minister.
Der Spiegel underlined the split between the Kiev regime and the nationalist union. A year and a half ago, during the Maidan unrest, Petro Poroshenko's team and the Right Sector were on the same journey, ousting legitimate president Viktor Yanukovuch and destroying Ukraine's statehood.
"The Ukrainian government armed volunteer battalions such as the Right Sector for the war in Donbass. Now the nationalists toss a challenge to the state itself."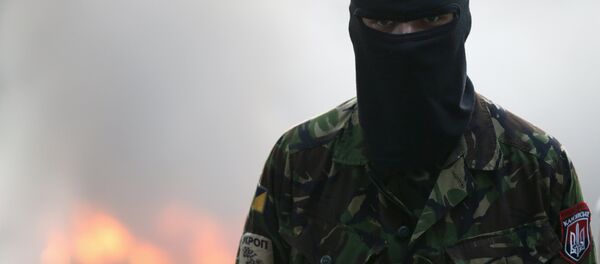 The notorious Azov regiment, sporting Nazi symbols, decided to support the Right Sector, Der Spiegel said.
The Right Sector's statement labels law enforcement and other structures who attempt to detain the militants "state criminals" and  declares "readiness to start a full-scale insurgent war against the internal occupation criminal-oligarch regime".
From the Right Sector's perspective, the Maidan turmoil "did not carry the process through and could not lead to a real national revolution", and the failure lies on the leadership "that came to power through the blood of the nation", Der Spiegel explained.
The Right Sector poses a threat of further escalation. Citing the group's spokesperson, Der Spiegel said that the nationalists were ready to send two armed formations to Kiev. Two of their units are stationed in Donbass, and there are 18 or 19 more battalions awaiting orders.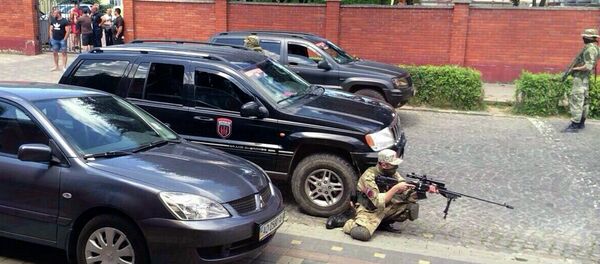 The Right Sector's leader Dmytro Yarosh "plays the role of a prudent statesman", heading to Mukachevo "to settle down the crisis peacefully", the magazine said.
However, Yarosh does not want to hide that his loyalty to the authorities has limits: in an earlier interview with Der Spiegel, Yarosh said that "our revolution is not over yet."
He condemns the "liberal totalitarianism" in Europe and oligarchs. Petro Poroshenko, who is a billionaire, seems too soft for the right wing, Der Spiegel said.
The Right Sector crisis in Western Ukraine could be dangerous for adjacent European countries. EU Ambassador Jan Tambinski hopes "for a quick resolution of the crisis", as Mukachevo is just 40 km away from Hungary, 90 km away from Slovakia and 110 km away from Romania.