WASHINGTON (Sputnik), Leandra Bernstein – The United Kingdom (UK) may be compelled to provide Ukraine with lethal weapons, if its continues to perceive a threat from Russia, former UK ambassador to Russia Sir Andrew Wood told Sputnik.
"I think we [the UK] probably will be driven to that if Russia continues its rather aggressive policies in Ukraine," Wood said on Tuesday of providing defensive weapons to Ukraine.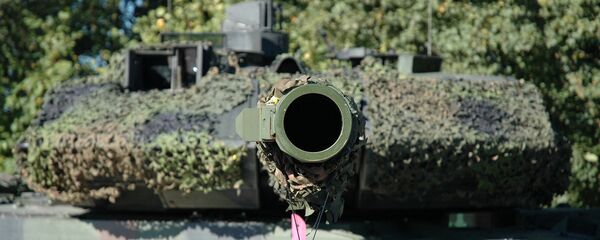 The UK, the United States and Canada have each provided the Ukrainian military with training, advisors and limited military hardware. The White House has so far been reluctant to provide lethal weapons to Ukraine, despite intense pressure from the US Congress.
Asked whether the UK would provide such weapons without the United States taking the first step, Wood stated the "the UK would consider doing anything, if the situation warranted."
NATO allies have discussed providing weapons for Ukraine to defend itself against alleged Russian aggression.
Russian officials have denied military involvement in Ukraine, and have insisted that the conflict in Ukraine be resolved diplomatically.
Other NATO member states, including Germany and Italy, have opposed flooding Ukraine with weapons, arguing it would fuel the ongoing conflict.