TOKYO (Sputnik) – Two people died and 35 others received injuries of various degrees as heavy rains and winds caused by Typhoon Nangka hit Japan's southwestern and central areas, NHK TV reports.
Both of the victims were trying to protect a house located in a field in the Hyogo Prefecture, according to NHK.
The Japan Meteorological Agency has issued landslide and flood warnings for eight of Japan's prefectures.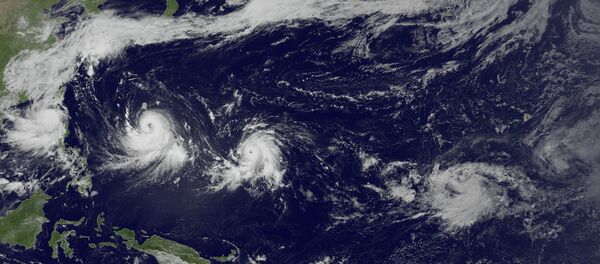 Typhoon Nangka, which is currently passing through Tottori Prefecture, has left 15,000 people without electricity in Japan. The government has advised approximately 240,000 to evacuate their homes and over 160 flights have been cancelled amid dangerous weather conditions.
Nangka currently has sustained winds of speeds ranging between 25 and 35 meters per second (56-78 miles per hour). The typhoon is expected to pass Japan's west coast and move north, gradually weakening by Sunday.
Typhoon Nangka started off as a tropical depression on July 3, strengthening into a fully-fledged typhoon within a three-day period. Its strength peaked a week ago with the typhoon's sustained winds reaching a speed of about 155 miles per hour as it passed north of Guam.
Typhoon Nangka is the second typhoon to threaten Japan this month after Chan-hom, which hit the country's southwest at the end of last week, injuring over 25 people and causing the cancellation of dozens of flights.