CAIRO (Sputnik) — Egyptian armed forces have killed some 60 militants in North Sinai in Saturday's military operation, an Egyptian Armed Forces spokesperson Mohamed Samir said Sunday.
Earlier in July, the Egyptian forces launched a military operation against the radicals and targeted the terrorists' positions with airstrikes, killing over 200 militants.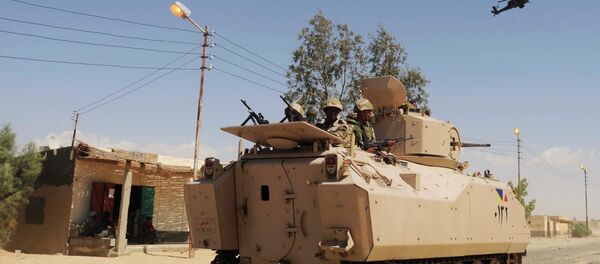 According to Samir, the Saturday's operation against Islamic State-affiliated extremists claimed lives of seven servicemen.
The ISIL, a radical Sunni group infamous for multiple atrocities, mass killings and destructions of shrines, operates on territories it has occupied across Iraq and Syria. In addition to the core ISIL force, affiliates have popped up in Yemen, Libya, Egypt and Afghanistan.
Sinai is one of the most troubled provinces of Egypt in terms of extremist activity. The attacks became recurrent after the 2013 overthrow of President Mohamed Morsi and the subsequent crackdown on his Muslim Brotherhood movement.