ANKARA (Sputnik) — Earlier on Monday, a female suicide bomber detonated a bomb in a cafe in center of Suruc close to the Syrian border, killing 30 people and injuring more than 100. The explosion took place in front of the cultural center that serves as a gathering point for the Turkish Kurds who have planned to go to Syria and help rebuild the city of Kobani, that was damaged in attacks by the Islamic State extremists.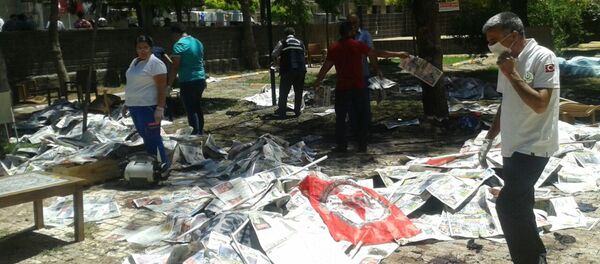 According to preliminary reports, the attack was carried out by the ISIL.
Later in the day, thousands of people gathered in Istanbul city center to protest against the attack in Suruc and the policy of the country's government, that, in their opinion, does not do enough to prevent terrorism.
According to the Sendika news website, the protesters were chanting "ISIL – murderers, JDP [the Turkish ruling Justice and Development Party] – accomplices," while urging the government to resign.
At first, the police, reportedly, did not hamper the rally, but later used tear gas and water cannons to disperse it. One person was injured with a plastic bullet.
There have been no reports of arrests so far.