BRUSSELS (Sputnik) — The European Union has been actively supporting the negotiation process in Libya, and must be committed to continue it in order to find a peaceful solution to the crisis, Mogherini stressed.
"We are prepared to adopt sanctions… we are considering names," Mogherini said at a press conference, adding that the process of making a "blacklist" should be discussed within the framework of the United Nations.
Libya has been in a state of turmoil since 2011, when the Arab Spring protests led to a civil war and the overthrow of long-time leader Muammar Gaddafi.
There are two rival governments in the country. The group controlling the Libyan capital of Tripoli and adjacent western areas is not recognized internationally.
Earlier in July, the political agreement on Libya has been signed by the majority of Libyan delegates with the exception of the Tripoli-based General National Congress.
© AP Photo / Mohamed Ben Khalifa
In this Saturday, Feb. 21, 2015 photo, Libyan soldiers try to fix a weapon that jammed during clashes with militants on the frontline in Al Ajaylat, 120 kilometers (75 miles) west of Tripoli, Libya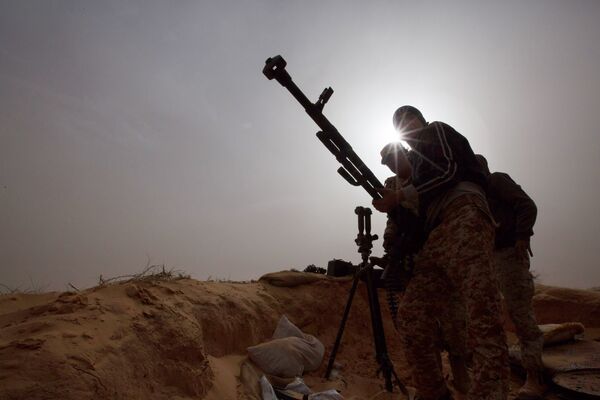 In this Saturday, Feb. 21, 2015 photo, Libyan soldiers try to fix a weapon that jammed during clashes with militants on the frontline in Al Ajaylat, 120 kilometers (75 miles) west of Tripoli, Libya
© AP Photo / Mohamed Ben Khalifa