WASHINGTON (Sputnik) — US pro-democracy programs could undermine the newly-restored diplomatic relations between the United States and Cuba because Havana fears they are designed to effect regime change, experts told Sputnik.
"If the United States increases its so-called 'democracy promotion' programs, which are covert aid to opposition and other types of espionage… [they] would taint the healthy debate over building a stronger democracy on the island with fears of foreign intervention," Center for International Policy Director of Latin America Laura Carlsen told Sputnik.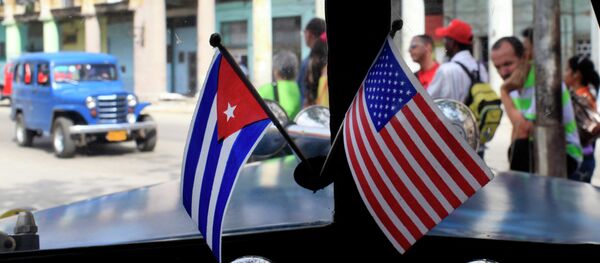 The United States, Carlsen explained, could best promote a more open society in Cuba by eliminating democracy programs that exacerbate concerns of foreign aggression and hinder the process for restoring US-Cuban diplomatic relations.
Dr. Any Gomez, a retired Cuban Studies Fellow at the University of Miami, told Sputnik the US State Department needs to convince Cuban officials that the United States is not trying to overthrow their government.
"[Pro-democracy programs] need to be worked out with the Cuban government," Gomez argued. "We [the United States] are trying to empower the Cuban people to make their own decisions… not for us to tell them what they need to do."
US democracy promotion efforts in Cuba, Gomez claimed, are "worthless," because they run counter to the policies the State Department continually espouses in public.
The United States, Gomez suggested, should focus on building bridges with the Cuban people, expanding communications and teaching civic activities, rather than peddling democracy.
The US Agency for International Development (USAID) has been widely criticized for meddling in other countries' internal political affairs. An investigation by the Associated Press in 2014 found that USAID secretly created a social media network in Cuba aimed at destabilizing the country's government.
On Monday, the United States and Cuba officially reestablished full diplomatic ties by reopening embassies.