RIO DE JANEIRO (Sputnik) — According to the prosecution, senior Petrobras officials took bribes from Brazil's major construction and engineering companies in exchange for securing inflated contracts. Some of the money reportedly flowed to Rousseff's Worker's Party. Some opposition figures believe that Rousseff, who headed Petrobras for seven years from 2003-2010, was aware of such practices.
"The putschism of the parties like PSDB [Brazilian Social Democracy Party] is a product of resentment of having been legitimately defeated by President Roussef," Frei Betto, Brazilian political activist and an adviser to Rousseff's predecessor, Luiz Inacio Lula da Silva told Sputnik.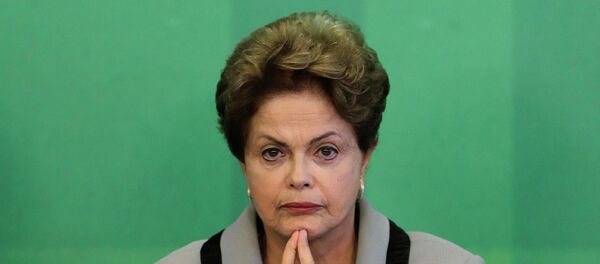 The veteran Brazilian journalist and editor of online magazine Carta Maior, Joaquim Palhares, told Sputnik that the ongoing "soft coup" in Brazil was launched through rumors spread in mass media, linking Rousseff with the Petrobras corruption scandal, even though the investigation has never presented proof of the connection.
On Wednesday, Rousseff is due to present to the country's Court of Audit a 900-page document explaining the actions of her government regarding the corruption scandal in the state-owned oil company Petrobras.
If the court rules that Rousseff's administration violated fiscal responsibility laws, the country's Congress could begin impeachment proceedings against the president. According to local media, both opposition leader Sen. Aecio Neves and the speaker of Brazil's lower house of Congress, Eduardo Cunha, seek impeachment.
According to a poll carried out by the National Confederation of Transport and published Tuesday, 62.8 percent of Brazilians answering survey questions support the idea of Rousseff's impeachment, 3 percent more than in March. Over the same period, the approval rating of Rousseff's government has fallen from 10.9 percent to 7.7 percent.