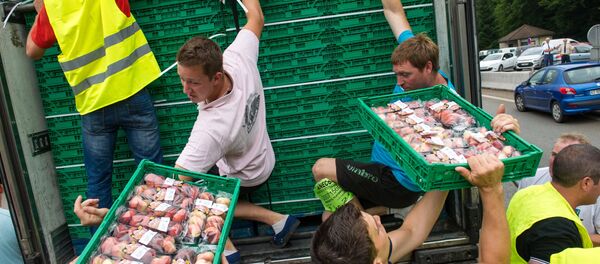 MOSCOW (Sputnik) — On Wednesday, French Minister of Agriculture Stephane Le Foll announced a $654-million emergency aid package to help the agricultural sector amid weeks of protests.
"Strike while the iron is hot…. We are operating at a loss, it does not make sense anymore! The state can set regulations for working on a better distribution of margins," president of the Young Farmers of the Rhone-Alpes Serge Mazallon said, as quoted by Le Monde newspaper.
The president of the Departmental Federation of Farmers Unions (FDSEA), Dominique Despras, said the proposed amount of financial assistance would not meet the needs of the Rhone-Alpes farmers, the media outlet reported.
Rallies against falling food prices have been taking place in France since the beginning of the week. Protesters have blocked roads and prevented tourists from reaching Mont St-Michel, one of France's most popular tourist destinations.