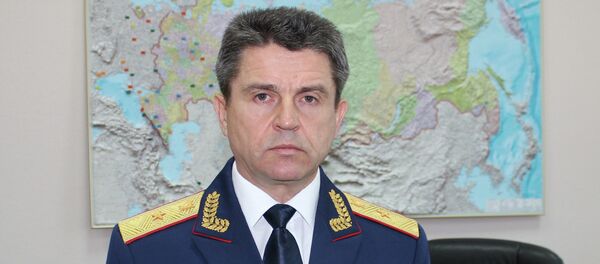 6 December 2014, 08:32 GMT
In an interview with RIA Novosti, Vladimir Markin said that Interpol's previous refusal to arrest the two "does not rule repeated requests if additional criminal charges have been brought against the suspects, and this is exactly what we are going to do."
In June 2014 the Investigative Committee brought criminal charges in absentia against Avakov and Kolomoiskyi for using prohibited methods and means of warfare, committing murders and kidnappings under aggravating circumstances and preventing journalists from performing their jobs.
Interpol then turned down the Russian request claiming it was politically motivated, and the Investigative Committee now plans to file a new request.
The Investigative Committee seeks the arrest of 30 more people charged with committing war crimes in eastern Ukraine.
Besides Avakov and Kolomoiskyi, the list includes former defense minister Valeriy Heletey, military chief of staff Viktor Muzhenko, commander of the 25th Brigade of the Ukrainian armed forces Oleh Mikas, Freedom Party leader Oleh Tyahnybok, Dmytro Yarosh, the leader of Ukraine's Right Sector ultranationalist group, banned in Russia, and others.
More than 3,500 refugees have been questioned in connection with war crimes against civilians in southeastern Ukraine. Over 1,740 people have been officially qualified as victims of war crimes.