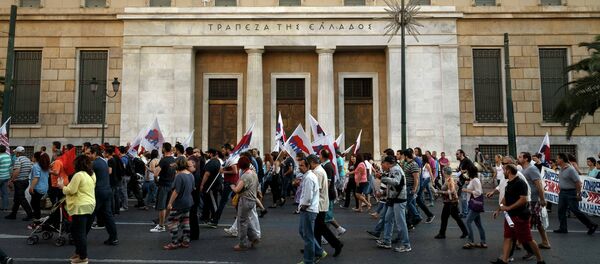 MOSCOW (Sputnik) — S&P also affirmed Gazprom's long- and short-term local currency corporate credit ratings at 'BBB-/A-3.'
"In our revised base-case scenario, we assume that the volatility in Gazprom's cash flow metrics will be lower than we previously anticipated, due to the pricing mechanism in some of its contracts partially mitigating the impact of the decline in oil prices. We believe this should allow Gazprom to avoid a material weakening of its credit metrics, which we previously anticipated," S&P said in a statement.
"This has not resulted in a rating change, however, as the ratings on Gazprom continue to be capped by those on the Russian Federation (foreign currency BB+/Negative/B; local currency BBB-/Negative/A-3), since we see a risk of the government's negative intervention," the statement said.
In the beginning of the year, the agency lowered Russian sovereign ratings from a "good" BBB- to a "Speculative" BB+ with negative outlook. Soon after that S&P downgraded the foreign currency ratings of several major Russian companies, including Gazprom and oil giant Rosneft.