MOSCOW (Sputnik) — In April, Russian Agriculture Minister Alexander Tkachev expressed hope that the country would be able to substitute at least 90 percent of food imports with domestic products in the next two or three years.
Russia has repeatedly stressed that Western sanctions are counter-productive and hurt not only the target country but those using the measure as well.
"This has nothing to do with inflicting pain on Europeans. The reasons behind this are strictly pragmatic," Medvedev said in an interview with Slovenian radio and television company RTV Slovenija on the eve of his visit to Slovenia on July 26-27.
Russia extended its food import ban, introduced in August 2014 in response to Western sanctions, last month.
"As you probably know, we are currently proactive in promoting import substitution in the food industry and developing domestic food production. Russia is a huge country; it has a huge agricultural sector, so we can surely provide for our needs in terms of food supply. Agriculture operates in one-year cycles, which enables producers to make plans for a longer term. This is the only reason behind this decision."
The prolongation of the one-year food ban came after the European Union, the United States and their allies extended the anti-Russia economic sanctions, imposed over Moscow's alleged role in the Ukrainian crisis.
© Sputnik / Filip Klimaszewski
 / Go to the mediabank
Polish farmers and horticulturists protest in Warsaw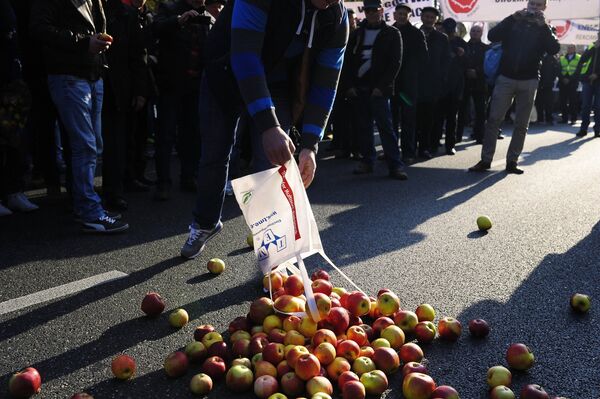 Polish farmers and horticulturists protest in Warsaw
© Sputnik / Filip Klimaszewski
/