WASHINGTON (Sputnik) — Former Secretary of State Hillary Clinton should hand over her computer server to the appropriate authorities to conduct an independent forensic assessment, US Select Committee on Benghazi Chairman Trey Gowdy stated in a release following the review of 3,000 Clinton e-mails by State Department Inspector General and intelligence agencies.
"The number of questions surrounding Secretary Clinton's unusual e-mail arrangement continues to grow," Gowdy said. "The best — the only way — to resolve these important factual questions is for her to turn over her server to the proper authorities for independent forensic evaluation."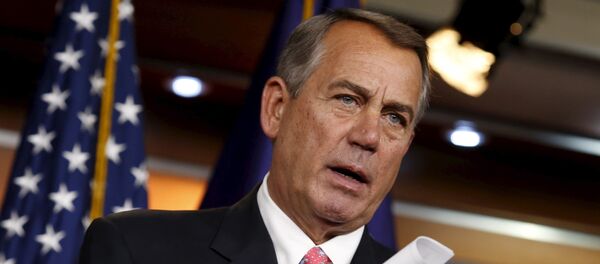 In March 2015, Hillary Clinton and her team were accused of lack of transparency after The New York Times revealed she had used a personal e-mail address for official business during her tenure as Secretary of State.
On June 30, 2015, the State Department released 3,000 of Clinton's e-mails concerning the September 2012 terrorist attacks on the US diplomatic compound in Benghazi, Libya, in accordance with Freedom of Information Act requirements.
Following a review of the some 55,000 pages of Clinton's e-mails, the State Department and intelligence agencies found that at least one of the released e-mails contained classified information and a number of others were upgraded to "classified status," The New York Times reported, citing inspectors handling the case.
Clinton had repeatedly stated that the e-mail account contained no classified information.
"Regardless of whether the server is voluntarily relinquished or acquired by other lawful means, there is clearly sufficient cause to examine the contents of said server for the presence of other classified information," Gowdy asserted.
Gowdy noted the Inspectors General recommended that the State Department transfer Clinton's e-mails to a system capable of processing top secret information.
"The Committee appreciates that IG appointed by President Obama have confirmed this is a serious and nonpartisan national security matter by any objective measure," he added.
The recommendation, he continued, merits further review by the Executive Branch to determine the legal and national security implications posed by Clinton's "unusual e-mail arrangement in order to mitigate any potential counterintelligence risks and minimize the damage caused by this scheme."
On Friday, senior officials said the Justice Department may open a criminal investigation into the mishandling of sensitive government information.