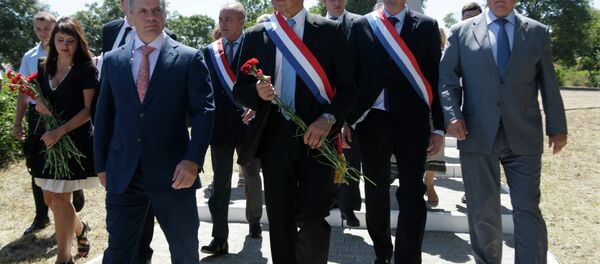 The eight- to ten-strong Italian delegation will be led by a member of the parliament's Foreign Relations committee Alessandro di Battista, Kommersant newspaper reported, citing one of the visit's organizers, Manlio Di Stefano who represents the Five Stars movement in the Italian legislature.
Senator Sergio Divina of the anti-EU Northern League party also plans to make the trip, scheduled for early October.
Márton Gyöngyösi, the deputy leader of the nationalist Jobbik party's Parliamentary Group and Vice-Chairman of the Foreign Affairs Committee of the Hungarian National Assembly also intends to visit Crimea. He expects the exact date of the visit to be confirmed "in the coming weeks."
A delegation of ten French parliamentarians visited Crimea last week holding a series of meetings with local residents and officials in Simferopol, Sevastopol and Yalta. 
The Ukrainian Foreign Ministry slammed the visit as a "show of disrespect for Ukraine's sovereignty and a blatant violation of Ukrainian law."
The French Foreign Ministry described the MPs' trip to the peninsula as a violation of international law.