WASHINGTON (Sputnik) — The US Internal Revenue Service (IRS) is still badly behind schedule in assessing its own tax collection data for last year, the US Government Accountability Office (GAO) said in a report.
"Complete marketplace data for the 2014 coverage year were due to IRS in January, but… as of March 21, 2015, IRS had complete data available for verification of taxpayer PTC [premium tax credit] claims for four of the 51 marketplace states," the report, released on Wednesday, said.
The marketplace states are the 50 US states plus Washington, DC.
The IRS's overall goals are to efficiently and effectively enforce compliance with tax laws, reduce taxpayer burden, and encourage voluntary compliance, the GAO noted.
However, "Incomplete and delayed marketplace data limited IRS's ability to match taxpayer… claims to marketplace data at the time of return filing," the report stated.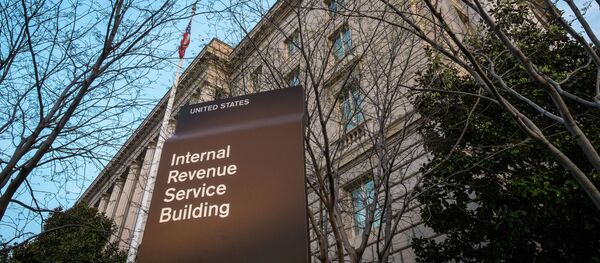 The delays were primarily due to "to marketplace delays in transmitting the data and
IRS technical difficulties with processing the data for matching," the report explained.
The IRS still does not know whether the problems it is experiencing this year are just due to short-term glitches or whether they represent more serious, systematic shortcomings in the organization, the GAO observed.
According to IRS officials, the tax agency checks the formatting, but not the accuracy of the data, the report noted.
"Although IRS implemented contingency plans to compensate for missing and inaccurate data, those processes were more burdensome for taxpayers," it said.
The IRS collects most taxes by automatic process, but its internal controls for auditing reliability of its procedures are also inadequate, another GAO report released on Wednesday added.
The US Government Accountability Office is an independent, nonpartisan agency that works for Congress and investigates how the federal government spends taxpayer dollars.