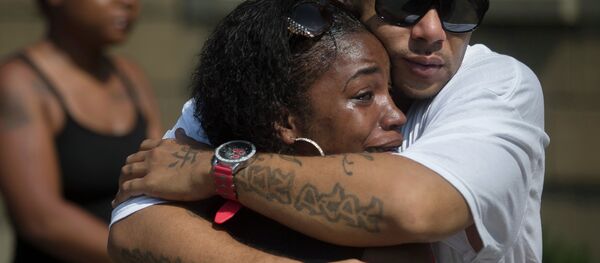 Ray Tensing, 25, turned himself in to police on Wednesday and spent the night in jail in isolation. He is the first police officer to ever be charged with murder in Cincinnati. 
On Thursday, he appeared in court wearing a grey striped prison uniform and pleaded not guilty to the murder of Samuel Dubose, 43, who was shot in the head by Tensing during a traffic stop over a missing front license plate.  He was bailed out shortly after by his father who had to post $100,085.
The stop, which took place on July 19, was captured on the former officer's body camera, and footage showed the officer attempting to open Dubose's vehicle door after he refused to provide his driver's license.  During the struggle over the car door, Dubose started his ignition.  This is when the officer shot him in the head, killing him instantly.
Hamilton County Prosecutor Joseph Deters has stated that Tensing was not being dragged by the car as he had claimed in his police report, but rather fell backwards after shooting Dubose, as the car only began slowly moving forward after the shot was fired.  The prosecutor also stated that Tensing should have allowed Dubose to drive away, seeing as he already had his license plate number.
"He wasn't dealing with someone wanted for murder. He was dealing with someone without a front license plate," Deters said
According to a 1985 Supreme Court ruling in the case of Tennessee v Garner, US law enforcement may not shoot someone simply for attempting to flee.
"He purposely killed him," Hamilton County Prosecutor Joe Deters said of Tensing. "He should never have been a police officer."
Stew Mathews, Tensing's attorney, has stated that their argument will be that he was acting in self defense.  The former officer faces life in prison if he is convicted.
"Murder is the purposeful killing of another," Mathews told USA Today. "There wasn't any purpose to kill this fella."
Many have subsequently questioned what other purpose shooting someone in the head at point blank range may be, besides causing death.
Tensing was fired from the university police on Wednesday following the charges, and Deters has stated that his office is also investigating another officer who corroborated Tensing's story.