MOSCOW (Sputnik), Anastasia Levchenko – The United Kingdom needs to increase the number of employees involved in dealing with an influx of asylum seekers and economic migrants, instead of wasting money on creating fences, General Secretary of the New Communist Party of Britain Andy Brooks told Sputnik on Thursday.
In light of the migrant crisis in the French port of Calais, the UK Home Office has announced plans to allocate an extra 7 million pounds ($10.9 million) to build security fencing around the approaches to the rail terminal at Coquelles.
"The problem is that there is not enough staff to deal quickly and humanely with the number of people. There should be more staff to deal with it," Brooks said, adding that erecting barricades is not the optimal solution to the issue.
"I would say that building fences and so on does not solve the problem, it just creates another barrier," Brooks told Sputnik.
He also emphasized that the issue was not only about processing asylum seeker applications, but that there was also an economic migrant dimension.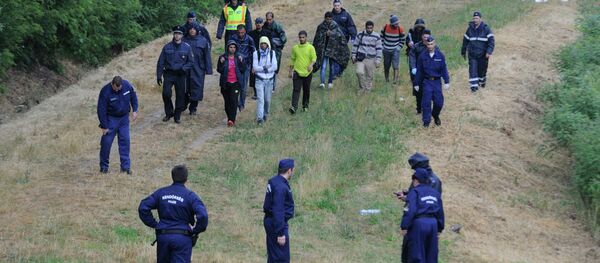 The are migrants are not only from African countries, but also from Europe, Brooks stated.
He admitted, however, that the migrant crisis was not exclusive to the United Kingdom.
"It's not just Britain, it's a phenomenon of the European Union," Brooks said.
In recent weeks, several thousand of migrants have attempted to gain access to the Channel Tunnel to make their way from France to Britain.
The Channel Tunnel is a 31.4-mile rail tunnel between Folkestone, Kent, in the United Kingdom and Coquelles, near Calais, in northern France.
According to French Interior Ministry estimates, Calais currently houses some 3,000 migrants, mainly from North African countries.