MEXICO CITY (Sputnik) – Mexico's Attorney General's office has received a court order to extradite drug lord Joaquin "El Chapo" ("Shorty") Guzman to the United States, Milenio Television reports.
The United States filed an extradition request for Guzman on June 25. Mexico said it would not extradite Guzman until he had served his prison sentence in Mexico.
Guzman was jailed at the Altiplano maximum security prison in February 2014. On July 11, El Chapo escaped using an underground tunnel that led from under his cell shower to a house construction site about 1.5 kilometers (0.9 miles) away.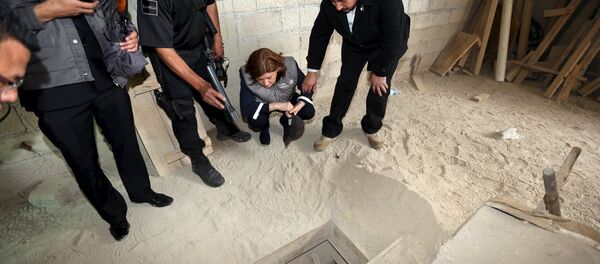 Milenio TV reported on Thursday that a federal judge in Mexico City had accepted a petition on Guzman's extradition to the United States made by the attorney general's office on Wednesday.
Mexican Attorney General Arely Gomez has said that his country is ready to pay 60 million Mexican pesos (almost $4 million) for information on Guzman's current whereabouts.
El Chapo's most recent escape is not the first one. In 2001, he escaped from a maximum security prison in Mexico's Jalisco state, using a laundry cart.
The Sinaloa drug cartel, led by Guzman, is responsible for a large portion of cocaine, heroin and marijuana sold in the streets of the United States. The drug empire has allowed Guzman to accumulate a major fortune, which was estimated to be some $1 billion in 2009.
The Forbes magazine ranked El Chapo as one of the most powerful people in the world in 2009, 2010 and 2011.