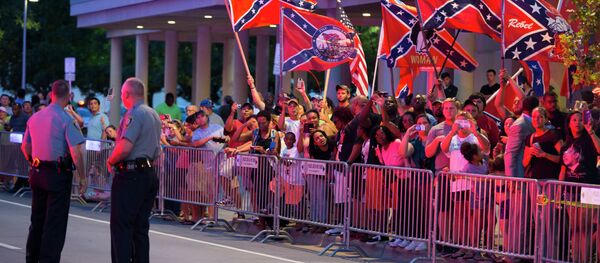 The Martin Luther King Jr. Center for Nonviolent Social Change, the civil rights leader's birthplace and his crypt are all located near the church building, where the battle flags were placed and where the congregation now meets.
According to Atlanta police chief George Turner, surveillance camera footage captured two white males laying the flags on the territory devoted to the civil rights leader. The footage has been made public so that the men can be identified.
Raphael Warnock, senior pastor at Ebenezer Baptist Church, said it's ironic that the incident took place the same day clergy from all over the country gathered at the Center to discuss issues of racism and in particular cases of racially motivated police brutality. He also called the act a "terroristic threat", ABC News reported.
"To place Confederate flags on the campus of Ebenezer Baptist Church after this horrific act in Charleston, in the wake of all this happening in our country, whatever the message was, it was clearly not about heritage, it was about hate," he said.
After nine African-Americans were gunned down by alleged white supremacist Dylann Roof at a historic black church in South Carolina, the heated debate over the Civil War-era symbol has reignited, with critics calling the Confederate flag a symbol of America's racist past.
Federal authorities and local police are investigating the Atlanta incident. It is not yet clear whether any charges may be imposed against those responsible.
"It was certainly divisive and not acceptable behavior the way it was done, but I cannot find a criminal act to it," said Bob Keller, former Clayton County district attorney.
Meanwhile, Atlanta police say the people who placed the flags could be prosecuted for criminal trespassing, terroristic threats, littering and vandalism to a place of worship.