GAZA (Sputnik) – A one-and-a-half-year-old Palestinian child was killed and three others were gravely injured after settlers in the West Bank threw firebombs into a house in the village of Douma, the Haaretz newspaper reports.
Hebrew graffiti reading "revenge" and "long live the Messiah" was spray-painted on the walls of the house, the newspaper cited Ghassan Douglas, the Palestinian Authority official in charge of monitoring settlement activity, as saying on Friday.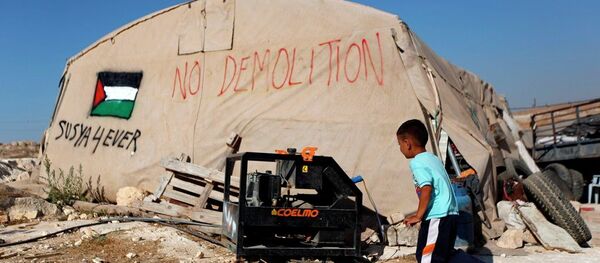 The fire, which occurred late Thursday night, is suspected by have been orchestrated by Jewish extremists, Haaretz said, adding that the death of the Palestinian baby has been confirmed by the Israeli Defense Forces.
Palestinians seek the creation of an independent state on the territories of the West Bank, including East Jerusalem, partially occupied by Israel, as well as on the Gaza Strip. Israel occupied the territories in 1967 and continues building settlements there.