Cameron attracted widespread criticism from fellow politicians, refugee advocates and migration experts for his choice of words when describing the situation.
"This is very testing, I accept that, because you have got a swarm of people coming across the Mediterranean, seeking a better life, wanting to come to Britain," he said.
To help hauliers and the people of Kent we will do all we can to get the queues moving. Sorting this situation out is an absolute priority.

— David Cameron (@David_Cameron) July 31, 2015
The UK-based advocacy group, the Refugee Council said it was "unacceptable language," while Harriet Harman, acting leader of Britain's Labour party, also weighed into the debate, saying that the prime minister should "remember he is talking about people, not insects."
Mr Cameron also drew widespread criticism for saying that he felt sorry for British holidaymakers interrupted by the situation in Calais, with critics accusing him of neglecting the suffering of asylum seekers.
Invasion Claims 'Absolute Nonsense' 
The prime minister has been accused of exaggerating the situation in Calais to gain public approval for tough immigration policies, which are in place to appease Eurosceptic members of his own Conservative party.
Peter Sutherland, the UN's special representative on migration attacked Cameron's response to the situation, pointing that the UK accepts far fewer refugees than other European countries, saying the perceived threat posed by migrants was "exaggerated beyond belief".
Speaking to RTE radio, Mr Sutherland said suggestions that Britain was facing an invasion of asylum seekers was "absolute nonsense," designed to "inflame tensions" over the issue.
"The fact remains, last year the total approval in France of refugees was 68,000 — that is more than twice the figure of the UK.
"I find it quite amazing the accounts that are being given in the UK media in regard to Calais. Suggesting the UK is being flooded with asylum seekers and that this creates a real threat is absolute nonsense."
Concerns Over Anti-Immigration Rhetoric
David Cameron's comments have raised wider concerns about the nature of anti-immigrant rhetoric across the whole of Europe, with refugees in many countries experiencing a backlash from some Europeans who are unhappy with the recent influx of asylum seekers from war-torn parts of the Middle East and Africa.
No @David_Cameron, 'swarms' isn't an appropriate word for desperate, homeless human beings, including children, fleeing persecution & war

— Natalie Bennett (@natalieben) July 30, 2015
While in many cases asylum seekers have faced shortages of shelter, food and basic supplies, there have been other instances of violent attacks being carried out on refugees.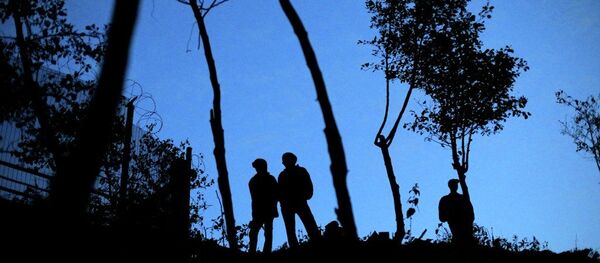 Among the most publicized anti-immigrant sentiment has been seen in Germany, with reports of growing xenophobia and violence, coupled with an increase in arson attacks carried out on asylum seekers' housing.
There is a fear that the tough anti-immigration rhetoric from some governments could harden the public opinion of refugees, instead of showing greater compassion.
Leigh Daynes, executive director of Doctors of the World UK, which has staff working in Calais, said people should realize that many asylum seekers have fled their homelands in search of a better life.
"These are ordinary people — mothers, fathers, daughters and sons — living in the most horrendous conditions that no one should have to endure. Many are highly educated, including doctors, dentists and engineers, fleeing extreme violence and poverty and simply wanting better lives for themselves, so much so they are prepared to risk their lives for it."