WASHINGTON (Sputnik) — The United States' weapons and logistical support for Saudi Arabia's military campaign in Yemen signals that Washington is backing Riyadh's goal to crush Houthi rebels despite UN calls for a political solution, experts told Sputnik on Friday.
The United States is providing intelligence and refueling support to enable a four-month-old Saudi-led air campaign against Houthi rebels and allied forces.
On Thursday, Washington decided to provide Riyadh with $500 million in ammunition to replenish stocks used up in the campaign.
"The Saudis want an extended war that leads to a Houthi defeat, and the United States is effectively backing that strategy with the arms deal," Charles Schmitz, a specialist on Yemen at the Middle East Institute told Sputnik.
"The Saudis don't want a political settlement; they want a Houthi surrender," he added.
This week's $500 million weapons deal, which includes ammunition, tracers, artillery shells and mines, is meant to resupply the Saudi military in its campaign against Houthi rebels, according to the State Department.
The sale was approved as Saudi Arabia has come under criticism for human rights abuses and violations of the international law of war by targeting and killing civilians in Yemen.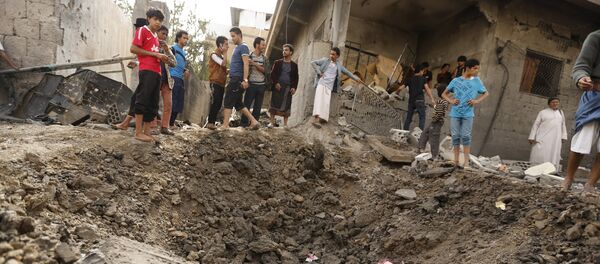 The conflict has claimed the lives of at least 1,900 civilians and has injured more than 4,000, according to the UN, while leaving 80 percent of the country in need of humanitarian assistance.
"The new sale by the United States of $500 million of munitions to Saudi Arabia is yet another example of how America is actually an active combatant in the Saudi war on the people of Yemen," Haykal Bafana, Managing Director of Bafana Advisory, told Sputnik from Sana.
"Whether the US munitions are distributed by Riyadh for use by its Yemeni proxy forces or by the Kingdom [of Saudi Arabia] itself, the effect is similar: the United States is contributing actively to the deaths of more Yemenis," Bafana added.
The multi-front war in Yemen pits Houthi rebels and loyalists of former President Ali Abdullah Saleh against ousted President Abd Rabbuh Mansour Hadi's Sunni forces, tribes and south Yemen secessionists based in Aden.
Al-Qaeda in the Arab Peninsula and the ISIL have also taken advantage of the situation to strengthen their hold in Yemen.
Saudi trained Yemeni proxies loyal to former president Hadi have recently pushed Houthi forces from Aden as several humanitarian ceasefires and political talks have broken-down.
Meanwhile, Saudi Arabia has delayed a pledge to provide $274 million in humanitarian aid to Yemen as the UN and Riyadh discuss the terms of the assistance, the UN's humanitarian chief said this week.