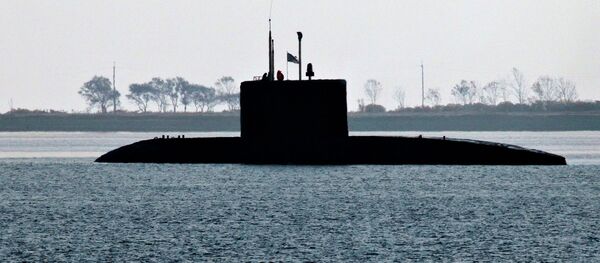 At the commissioning ceremony at Cam Ranh Naval Base in Khanh Hoa Province, south of Hanoi, the national flag was raised on both vessels.
During his official speech, Rear Admiral Pham Hoai Nam, the Vietnam People's Navy commander, said the submarines will signify a new stage in upgrading the navy and the fighting capabilities of the Vietnam People's Army.
The submarines' names — 184-Hai Phong and 185-Khanh Hoa — were originally the names of Vietnamese coastal cities.
There will be two more 636 Varshavyanka Kilo-class submarines arriving in Vietnam to complete the 6-item deal. The diesel-powered vessels were ordered in 2009 from Admiralty Shipyard in St. Petersburg for $2 billion.
The first two submarines, the 182-Hanoi and 183-Ho Chi Minh, were handed over to Vietnam a year ago, in April. The last delivery is scheduled to be carried out by 2016.
Russia will also train Vietnamese crews and provide indispensable spare parts. All of the commissioned submarines are to join Submarine Brigade 189, Vietnam's news agency VNA reported.
As the submarines were commissioned amid ongoing tension in the South China Sea; Pham Hoai Nam also stressed during his speech that reinforcement of the Vietnamese navy wasn't meant to create an arms race or deter other countries, but only to protect country's sovereignty and ensure peace in the region.
The first Russian Kilo Class submarine was released in the early 1980s. The latest models of the vessel are almost 74m-long, have a 3,000-ton displacement and can operate in 300 meter-depths at a speed of 20 nautical miles per hour.