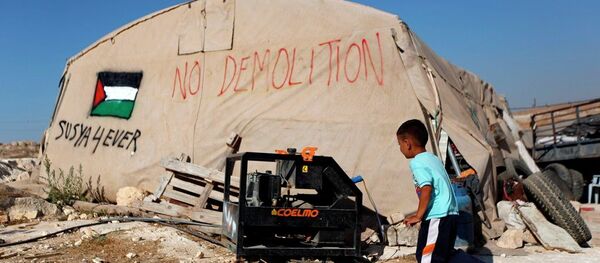 The pending order to demolish the small Palestinian village has been described as "the most blatant violation of human rights," by Middle East expert and author Alon Ben-Meir, senior fellow at the Center for Global Affairs in New York.
But the future of the village still hangs in the balance after an appeal hearing scheduled for August 3 on behalf of the residents was postponed.
Susiya's future may be wavering but the widespread condemnation of the proposed demolition of the village in the southern Judaean Mountains isn't.
A campaign on Twitter known as #SaveSusiya continues, whilst a new petition to be delivered to the Israeli High Court to save the village and calling for 50,000 signatures has been published on Avaaz.org:
"Uprooted once already, when Israel declared the nearby ruins of a synagogue an archaeological site, these 300 Palestinians — ordinary families just trying to exist — are to be thrown out of their homes and moved, yet again. But where to and for how long?"
"They will confiscate this farming land for settlers, so they can expand their settlements and live comfortably. They want to destroy us, our lives and our kids' lives," said Abu Mohamad Nawaja, a village elder.
Rabbis for Human Rights, a group appealing on behalf of residents of Susiya, says it is still waiting to hear of any developments which would hopefully shed some light on the future of the tiny village on the Israeli occupied West Bank. 
"The State has been exploring whether there is a basis for discussing legalizing the status of the village. In the meantime, thanks to the determined struggle of the residents of Susiya, and the public pressure that we collectively helped create, we believe that there will not be demolitions in the next two weeks."