ALABINO (Moscow Region) (Sputnik) – Nicaraguan authorities are interested in the purchase of Russian-made T-72 tanks used in the first International Army Games, the Nicaraguan ambassador to Russia said Wednesday.
The 2015 International Army Games competition kicked off on August 1. As many as 11 different locations in Russia are hosting the contest, due to finish August 15.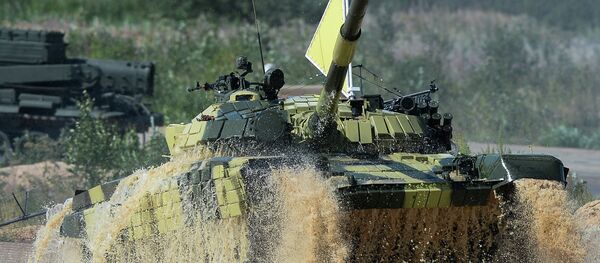 "We hope that the T-72 [tank] will soon appear in our Army. I think we can talk about a purchase," Juan Ernesto Vasquez Araya stated.
According to Araya, Nicaragua's army uses the Russian T-55 tank but the military has not previously operated the T-72 variant.
The T-72 was developed in the former Soviet Union and is still widely used around the world. The latest modernized version is the T-72B3, and has an improved fire-control system, a ballistic computer for better accuracy, thermal weapon sights, and next-generation communications equipment.
The T-72B3 was displayed at the Army-2015 expo held outside Moscow June 17-18.