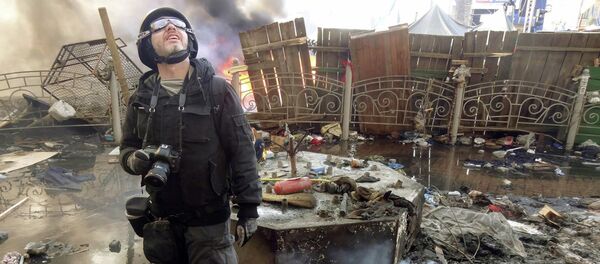 DMYTRIVKA (Donetsk region), August 6 (Sputnik) – Although the exact number of people who died that August night in Ukrainian military artillery fire is unknown, witnesses to those events had shed some light on the circumstances surrounding the deaths of Andrei Stenin and two journalists from the Icorpus.ru news website, Andrei Vyachalo and Sergei Korenchenkov.
Equation with numerous knowns
The journalists went on air for the last time on August 5, 2014 from the town of Snezhnoye, 50 miles east of the region's capital Donetsk. They told the militia in control of the town that they were heading south for the village of Dmitrovka on the Russian-Ukrainian border, where Ukrainian troops and National Guard paramilitary had launched an operation to cut the self-proclaimed Donetsk People's Republic off from Russia.
Calls to the journalists' phones went unanswered from that day on. An adviser to the Ukrainian Interior Minister, Anton Gerashchenko, claimed several days later that Stenin had been captured by the military. This seemed plausible since Stenin's phone had been tracked to the town of Slavyansk 100 miles northwest of Snezhnoye.
After the militia retreated from Slavyansk, the phone was turned in to the army operations headquarters. On August 8, everyone who called Stenin received text notifications that the called party was available again, reviving hope that he was still alive.
But Gerashchenko suddenly backtracked, raising confusion and suspicions. A call from a friend of Stenin's who succeeded in getting through was picked up by a man who introduced himself as a Ukrainian serviceman. "I came by this cell phone accidentally, someone else gave it to me," he said.
'He had a beard and I had a beard'
A RIA Novosti correspondent managed to find a militiaman, codenamed "Beard," who saw Stenin with his colleagues in Dmitrovka on the night of August 5. The militiaman said that the journalists came from Snezhnoye.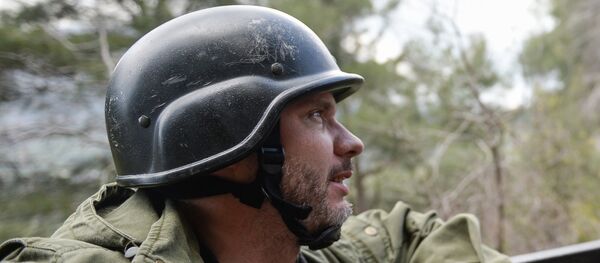 The Ukrainian military then tried to surround Dmitrovka, a key village near the Russian border. The journalists apparently tried to escape the encirclement and drove back to Snizhne. No one knew if the road back to Dmitrovka would be safe, but it was certain that the road back to Snezhnoye would be deadly.
"Sergei the Greek [militia member]came from Snezhnoye and had a meal. The journalists came with them, we saw them," the Beard said, browsing through Andrei Stenin's photos on a tablet. "I remember him well. He had a beard, and I had a beard," he laughs.
Stenin, Korenchenkov and Vyachalo did not realize their safety had shifted in a matter of hours, as was so often the case in a war zone. The road they took to arrive safely in Dmitrovka had fallen under control of the Ukrainian army.
National guard kept firing
Stenin and his friends died near the settlement of Rassypnoye outside Dmitrovka, hours after Ukrainian paramilitaries arrived to reclaim the territory for the government in Kiev.
"[The National Guard members] showed up here in the evening of August 5. They started with shelling a wheat field to put it on fire," residents of Rassypnoye village recounted. "They came into each house telling everyone to stay put."
After taking control of the road between Snezhnoye and Dmitrovka, Ukrainian troops started shooting all passing vehicles. They did not stop or search the vehicles, they simply opened fire.
On August 6, Maria and Vladimir Zolotous left Dmitrovka for Snezhnoye to pick up their daughter and grandchildren when the town was already surrounded. There was an airstrike in town two weeks before that killed 13, and sporadic street fights erupted in the nearby town of Shakhtyorsk, where Stenin had taken pictures.
"Early in the morning, we set out to Snezhnoye," Maria says. "My husband didn't want to go, as if he knew what's going to happen to us. It's a short drive, so I talked him into going. As soon as we came on top of a hill [outside Rassypnoye], we had bullets hitting our car. The very first bullet hit my husband. He veered off the road into a ditch telling me to run."
Maria, with bullets in her legs, fell out of the car and crawled toward the Ukrainian troops yelling at them not to shoot. She said they responded by firing at the car from a grenade launcher.
"I saw a car nearby. Later, when I saw it on TV, I realized that it was Stenin's car," Maria recalls. "Back then, of course, I didn't have time to check it out. I only remember that the vehicle was on fire. I don't remember seeing any people in it."
"There were two soldiers in the bushes," she goes on. "I told them I was wounded and asked for help. We have no medicines, they told me. Keep crawling to the village and get some help there."
A family took Maria to Rassypnoye, where she spent six days in a basement hiding. They bandaged her wounds and gave her painkillers. A week later, relatives got permission from the military to let her son-in-law pick her up. She was then taken to a hospital in Russia.
The point of the massacre, which lasted several days, remains unclear. The Ukrainian forces may have wanted to scare off people from using the road to tighten their grip on the Donetsk People's Republic, or possibly they were afraid of a surprise attack by the militia. At least six militia members, including Sergei the Greek, with whom Stenin had arrived in Dmitrovka, died outside Rassypnoye.
Death toll remains unknown
The vehicle that carried Stenin, Vyachalo and Korenchenkov was found on August 20. It was identified by two burned professional lenses in the trunk. The camera was missing from the car. It may have been taken just like the cell phone, which was later tracked to Slavyansk.
Unopened vials with painkillers, which professional war correspondent Stenin always carried along and his Italian red plaid shirt with rolled up sleeves, were lying next to the vehicle. The autopsy confirmed that the bodies in the vehicle were Stenin, Vyachalo and Korenchenkov.
In total, about 20 vehicles were shelled outside Rassypnoye during those days. Some people died on the spot, others managed to escape.
On August 6, locals and relatives will gather on a hill near the village to commemorate the dead. They want to put up a stele with the names of the shelling victims, but the list is still in the making, says head of the village authority Oleg Kharichkov.
Some of the remains were buried in mass graves by the locals. Others were taken by relatives. Vladimir Zolotous was buried in two places – part of his remains were taken by his wife's relatives from Dmitrovka, while the rest was claimed by relatives in Shakhtyorsk.