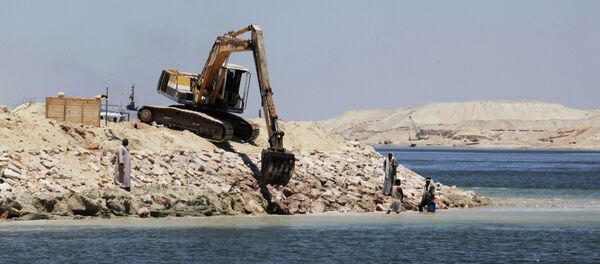 ISMAILIA (Sputnik), Svetlana Alexandrova — The New Suez Canal, due to be officially inaugurated on Thursday, is part of a plan to develop the surrounding area into an industrial, commercial and logistics hub that will include the construction of additional ports and improved shipping services.
The new waterway is expected to decrease the transition time for ships from 22 to 11 hours, and create more jobs in Egypt.
"The New Suez Canal and the fact that it has been built within a year proves that Egyptians can accomplish anything," Hamdeen Sabahi said.
He added that Egypt would show the same commitment in tackling major issues in Egyptian society, such as corruption, international terrorism and poverty.
"Today the world will recognize our achievement but we cannot stop now, we need to go forward in fulfilling the main goal of the revolution, such as bringing social justice and equality to the Egyptian land. The new waterway will contribute to the multidimensional development of the area and Egypt in general," the politician stressed.