Zachary Hammond, 19, was the driver of a vehicle in which 23-year-old Toni Morton was a passenger when she was allegedly on her way to sell a small amount of marijuana to an undercover officer. She had less than 10 grams of marijuana on her, which qualifies as a misdemeanor in the state of South Carolina.
When Hammond saw the marked vehicle, he began to drive away, and  that is when Tiller opened fire, shooting the teenager and killing him.
The attorney representing Tiller claims Hammond ignored orders by the lieutenant to show his hands. 
"Rather than abide by this order, Mr. Hammond rapidly reversed his vehicle towards Lieutenant Tiller's patrol vehicle," attorney John M. Mussetto said in a statement. "Mr. Hammond then rapidly accelerated in the direction of Lieutenant Tiller, forcing the lieutenant to push off of Mr. Hammond's car to keep from being struck and run over.
"In order to stop the continuing threat to himself and the general public, two shots were fired by Lieutenant Tiller in quick succession," Mussetto said.
The department claimed that Hammond was shot at point blank range through the driver's side window as he attempted to hit the officer, but a private autopsy concluded that he was shot in the back, and therefore could not have been driving at Tiller.
"The driver accelerated and came toward the officer," Seneca Police Chief John Covington said a day after the shooting, according to Fox Carolina. The officer "fired two shots in self-defense, which unfortunately were fatal for the suspect."
There is dashcam footage that may be released to the public once an investigation is completed.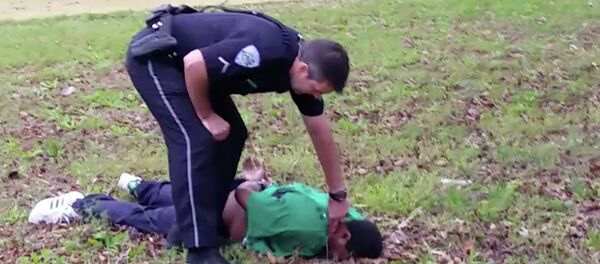 According to Covington, Tiller, a ten-year veteran of the force, has no disciplinary actions in his file.  A lawyer for the family, however, claims they have "credible evidence about Lt. Tiller's background that appears to contradict what Covington has stated about Lt. Tiller's history."
Hammond's death is currently under investigation by South Carolina Law Enforcement Division (SLED), and the family hopes that once their investigation is completely, there will be justice.