MOSCOW (Sputnik) – The areas where the construction has developed include territories such as the New Siberian Islands, Wrangel Island, Sredny Island and Franz Josef Land, according to Shoigu.
"Neither our country, nor the former Soviet Union, has seen such scale of construction in the Arctic region since the start of its development. Today, everyone sees, knows and understands that we are celebrating Russia's return to the Arctic, especially to the insular zone."
The minister noted construction of harbor facilities on the Kamchatka Peninsula.
In February 2013, Russian authorities unveiled a strategy to improve the country's military defense network in the Arctic, a program that will continue through 2020. In April 2014, President Vladimir Putin announced that Russia had begun the construction of an integrated network of military facilities in its Arctic territories to bolster border defenses.
© Sputnik / Sergey Mamontov
 / Go to the mediabank
Opening the North Pole 2015 drifting station in the Arctic Ocean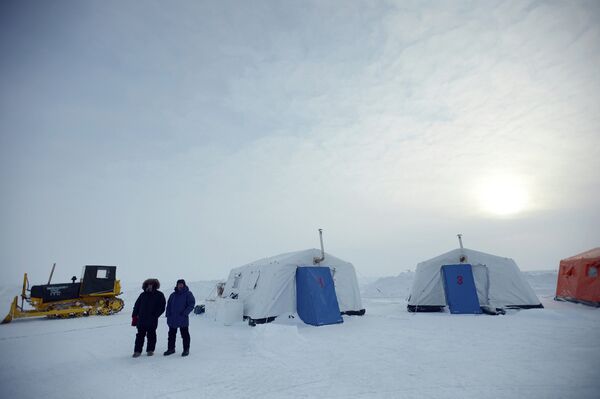 Opening the North Pole 2015 drifting station in the Arctic Ocean
© Sputnik / Sergey Mamontov
/