FERGUSON (Sputnik) – The lawyers for Michael Brown's family are planning to present new evidence in the case of last year's shooting in Ferguson, to support their claim in a wrongful death lawsuit, family's attorney Anthony Gray told Sputnik.
"We feel that we have evidence to show in support of our claim. We also feel that the evidence that was given to the grand jury – that was incomplete, inaccurate, it was not a full story. We have an evidentiary presentation that is going to be entirely different from what you've heard already," Gray said.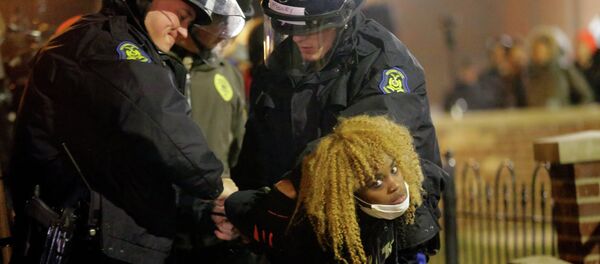 The Brown family attorneys Anthony Gray and Daryl Parks filed the suit in April on behalf of Brown's parents Lesley McSpadden and Michael Brown Sr. at the St. Louis County Courthouse.
"We feel that — the case that we brought was a wrongful death. We feel that the actions taken on August 9th violated the established civil laws of our land. We've pled five or six counts to kind of categorize the actions that we said took place on that day. We're now in the process of adjudicating those counts," Gray said.
The attorney noted that they have asked for monetary awards.
"Primarily in our system – our civil justice system – you can't resurrect the dead person. The only thing we can do is ask for monetary award. That would be equivalent to the loss the parents sustained," he said.
Gray stressed that the case of Michael Brown is a "landmark" case around the country that helped bring light on other injustices across the country.
"We feel that this case was that incident that sparked this movement – it was a catalytic event that created the awareness around everything else that was happening in this country. That's why this case is so important. Had it not been for this particular case, we'd probably would have never unearthed the other injustices that are in our system," he concluded.
A US Justice Department report into the Ferguson Police Department found a pattern of racially biased policing and systemic civil rights abuses against African-Americans in the community.