The resolution, also known as Public Law 86-90 from July 17, 1959, was then re-issued every year for the last 56 years, thus officially recognizing the independence of the Don region, where the present-day Donetsk People's Republic (DPR) and the Lugansk People's Republic (LPR) are located, from the Soviet Union.
"Whereas the imperialistic policies of Communist Russia have led, through direct and indirect aggression, to the subjugation of the national independence of Poland, Hungary, Ukraine, Czechoslovakia… Cossackia," the text of the US resolution said.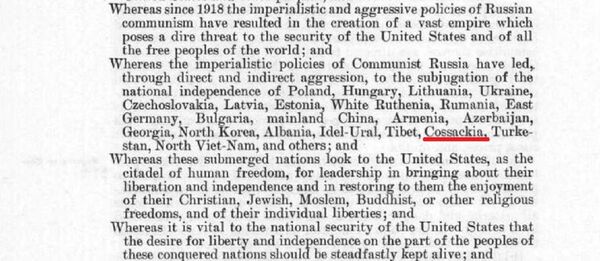 A text fragment from US Public Law 86-90 passed by the US Senate and House of Representatives on July 17, 1969
Amusingly, the US government recognized Ukraine and Cossackia (the region, which consists of Donbass and Zaporozhye) as separate countries and separate peoples. According to the resolution, both nations have a right to exist.
Now, since the resolution is the current US law, the US government must recognize Cossackia, which now consists of DPR, LPR and Ukraine's Zaporozhye Region, as an independent nation.
Things got even more comical when the current US President Barack Obama, who hadn't even been born when the law was passed, officially recognized the 1959 resolution and continued the great American tradition of holding Captive Nations Week every year in July in his Presidential Proclamation.
"Now, therefore, I, Barack Obama, President of the United States of America, do hereby proclaim July 19 through July 25, 2015, as Captive Nations Week. I call upon the people of the United States to reaffirm our deep ties to all governments and people committed to freedom, dignity, and opportunity for all."