Protesters gathered over the weekend to honor Michael Brown, fatally shot by Officer Darren Wilson one year ago, and to demonstrate support for the Black Lives Matter movement. While raising awareness of police brutality on Sunday night, shots rang out across the city.
Police say the incident began when officers responded to calls of a shootout between rival groups in the heart of Ferguson. When one individual turned to open fire on the four plainclothes officers, he was became critically injured during the ensuing chase.
That individual has now been identified as 18-year-old Tyrone Harris, and has been charged with assaulting police officers.
St. Louis County Police Chief Jon Belmar stressed that the shooters "were criminals; they weren't protesters."
"There is a small group of people out there that are intent on making sure that we don't have peace that prevails," he said, according to Reuters.
US Attorney General Loretta Lynch also condemned Sunday night's incident, saying that violence "places the community, as well as the officers who seek to protect it, in harm's way."
The shooting served as a harsh reminder of the incidents of one year ago. The death of Michael Brown, and the failure of a grand jury to indict the officer responsible, led to a wave of protests nationwide, and Ferguson police are preparing for potential violence on Monday night.
"After a year of protest and conversation around police accountability, having plainclothes officers without body cameras and proper identification in the protest setting leaves us with only the officer's account of the incident, which is clearly problematic," Kayla Reed, an organizer with the Organization for Black Struggle, said in a statement.
Arrests have already been made in nearby St. Louis, where "Moral Monday" protesters were also marching to honor Michael Brown. As many as 57 individuals have been arrested outside the city's courthouse, prominent civil rights activist Cornel West among them.
Police are also considering implementing a curfew for Monday night.
Now that the weather has cleared, protesters have formed a line across all eight lanes of highway 70, blocking traffic in both directions just outside of St. Louis. That has reportedly resulted in mass arrests.
Sunday's demonstrations were largely peaceful. Hundreds gathered by a memorial at the site of Brown's death. A service was held at a nearby church. Organizers have stressed that Monday will be more of the same; a peaceful day of civil disobedience meant to draw attention to racial bias in the US criminal justice system.
After nightfall, a small group of individuals emerged from the crowd of protesters and broke into businesses along West Florissant Avenue. Ferguson police responded by forming a line across the storefronts. Donning riot gear, they ordered demonstrators to move out of the street.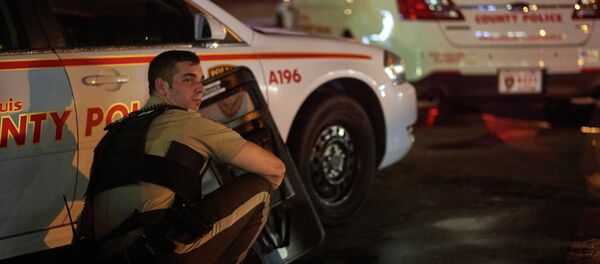 10 August 2015, 05:42 GMT
Even after those individuals had cleared the area, police began speeding down West Florissant with sirens blaring. Officers formed a line to control protesters, and some demonstrators began moving toward that police line.
Some activists saw this as an example of the kind of police provocation that escalated tensions during last year's demonstrations.
"We learned the last time we did it this way, there was more violence," Amy Hunter, director of racial justice for the YWCA, told the New York Times.
Ferguson law enforcement, in particular, has been found to unfairly target minorities. A Justice Department investigation conducted after Brown's death found systemic racism in the city, saying that police had created a "toxic environment." This report included a number of incidents in which excessive police force was used against unarmed black individuals.