During a cleanup operation of the Gold King Mine in Colorado last Wednesday, an EPA inspection team accidentally released a massive spill of wastewater into Cement Creek. Polluted with significant concentrations of arsenic, mercury, and lead, the water quickly entered the Animas River, which has become orange in the days since.
The polluted water has already reached New Mexico and will soon cross over into Utah.
While the EPA initially estimated 1 million gallons of wastewater entered the river, that number has now tripled. Flowing from the mine at a rate of 500 million gallons per minute on Sunday, officials estimate that roughly 3 million gallons of toxic water has entered the Animas.
On Monday, Colorado Governor John Hickenlooper declared a state of emergency. That announcement will allow the state to use $500,000 set aside for disaster relief to help with the cleanup effort.
"We will work closely with the EPA to continue to measure water quality as it returns to normal, but also to work together to assess other mines throughout the state to make sure this doesn't happen again," Hickenlooper said in a statement.
© REUTERS / EPA Handout
A contaminated plume of waste water accidentally released from a Colorado gold mine by U.S. environmental agency workers has spread downstream.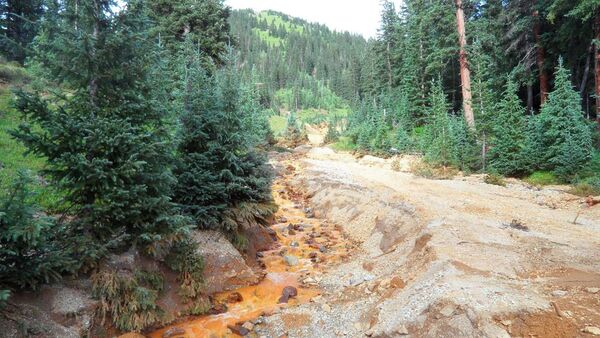 A contaminated plume of waste water accidentally released from a Colorado gold mine by U.S. environmental agency workers has spread downstream.
"This action has been taken due to the serious nature of the incident and to convey the grave concerns that local elected officials have to ensure that all appropriate levels of state and federal resources are brought to bear to assist our community, not only in actively managing this tragic incident, but to recover from it," La Plata County Manager Joe Kerby said, according to CNN.
Some of that money will also go toward reimbursing town and businesses affected by the spill. A number of communities along the river were forced to shut off water intakes, and a number of residents living along the Animas have reported discolored water in private wells.
"The river for us is an integral part of our community," state Senator Ellen Roberts told MSNBC. "It's where our people get married. People do their own private ceremonies along there. It's our daily life."
For the time being, residents along the river have been urged not to drink or bathe in water from wells.
As the wastewater continues its way through the Southwest, EPA officials are attempting to divert the leak at its source. Workers have built two settling ponds alongside the mine where officials treat the wastewater with chemicals meant to filter out pollutants before it flows into Cement Creek.
"We are very sorry about what happened," Dave Ostrander, the EPA's Region 8 director of emergency preparedness, told the Denver Post last week. "This is a huge tragedy. It's hard being on the other side of this. Typically we respond to emergencies, we don't cause them…It's something we sincerely regret."
According to the EPA, the leak is already improving. Water sampling in areas already hit by the initial burst of wastewater have shown that the bulk of the pollutants continue downstream, rather than remain in the water.
Officials also say that the "leading edge" of the wastewater already appears to delineating, and is no longer visible from aerial surveys.
Still, the EPA has been accused of downplaying the incident since it began, and with its initial leak estimates now tripled, one can assume the environment impact will be far from "minimal."