UNITED NATIONS (Sputnik) – US citizens have the right to take to the streets in a peaceful manner, UN Secretary General Ban Ki-moon's spokesman told reporters Tuesday.
Events marking the one-year anniversary of the shooting death of unarmed African-American teenager Michael Brown at the hands of a white police officer turned violent in the Midwest suburb of Ferguson. Local police arrested up to 150 people in the past 48 hours in a crackdown on the disorders marring the commemoration of Michael Brown's death.
"I think it's important that people be able to protest peacefully," Ban's spokesman Stephane Dujarric stressed.
Last November, when violent riots erupted after the announcement of a non-indictment against the officer who fatally shot Brown, Ban appealed for protesters to express their grievances peacefully.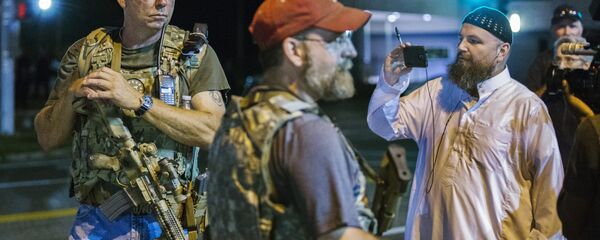 11 August 2015, 19:49 GMT
During a rally commemorating Brown's death on Sunday, police responded to gunfire directed at an unmarked police vehicle, injuring a 18-year-old who reportedly remains in critical condition. The teenager named Tyrone Harris, purportedly Brown's friend, was charged with 10 counts of assault and armed criminal action.
St. Louis County declared a state of emergency in Ferguson and the surrounding areas amid the unrest and violence that followed commemoration rallies.
UN's Dujarric emphasized the importance of law enforcement officials to protect the local community while allowing them exercise their right to peaceful protest.
A Sputnik, Washington Post and Huffington Post correspondents were among those arrested during their coverage of events unfolding in Ferguson.