MOSCOW (Sputnik) — A UK petition for the arrest of Israel's Prime Minister Benjamin Netanyahu for 2014 war crimes had received over 42,000 signatures by Wednesday.
In 2014, Israel launched a military offensive in the Gaza Strip, currently controlled by Palestine's Hamas. According to UN estimates, some 2,200 Palestinians, including over 550 children, died during the offensive.
"Benjamin Netanyahu is to hold talks in London this September. Under international law he should be arrested for war crimes upon arrival in the U.K for the massacre of over 2000 civilians in 2014," the petition says.
The petition published on the UK parliament's website is expected to be open to collect signatures until February 7, 2016.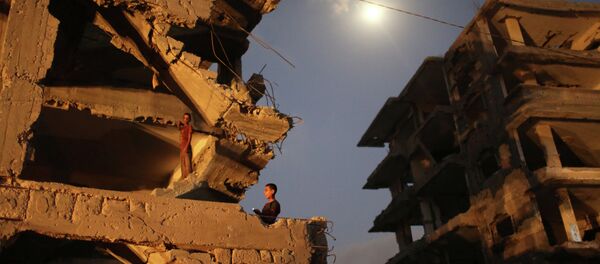 According to the website, the UK government must respond to all petitions that gain over 10,000 signatures. The petition must collect 100,000 signatures to be considered in parliament.
The UK government is yet to respond to the petition.
The conflict between Israel and Palestine started with Israel's occupation of the West Bank and Gaza Strip in 1967. The international community, including the European Union, does not recognize that the occupied territories legally belong to Israel. Palestinians seek the establishment of an independent state on the territories of the West Bank, including East Jerusalem, and the Gaza Strip.