Cuban dissidents were "forgotten" when the invitation list was drafted for the historic event, scheduled for Friday, revealing the hypocrisy behind the US policy shift towards the island nation's single-party government.
"The flag raising ceremony at the embassy is principally a government to government event," the US State Department announced in a special briefing on Wednesday, adding that it is extremely constrained in space.
According to a senior State Department official, there have been no changes in US policy towards Cuban dissidents. US Secretary of State John Kerry is planning to arrive in Cuba to participate in the reopening ceremony of the US Embassy in Havana and will allegedly stage a quiet meeting with Cuban human rights activists.

"Later in the day we are having a large event at the chief of mission's residence, which is also a diplomatic installation," the Secretary said. "A broad range of groups will be invited, including…Cuban political, human rights and media activists."
Cuba calls the local opponents treacherous US mercenaries who meet American politicians every time they visit Havana, and claims they run the risk of ruining the thaw in US-Cuban diplomatic relations, which resumed after 54 years of severed ties. Additionally, the Cuban government has expressed concern that US pro-democracy programs are designed to effect regime change.
Officials, who agreed to speak on condition of anonymity, revealed why dissidents were not invited: the dissidents hope to sabotage US plans to boost diplomatic relations with Cuba and Raul Castro, but cutting them off completely would send a rather bad signal to both parties.
"It wouldn't be surprising if North American diplomats prioritize contacts with the Cuban government," said Elizardo Sanchez, head of the Cuban Commission on Human Rights and National Reconciliation, a group that promotes change in the island. "If we show up, they leave."
The US Presidential Administration has stated that normalized relations with Cuba would have a beneficial effect on attempts to achieve democratic reforms in the communist island in the long term, through trade cooperation and the promotion of human rights issues.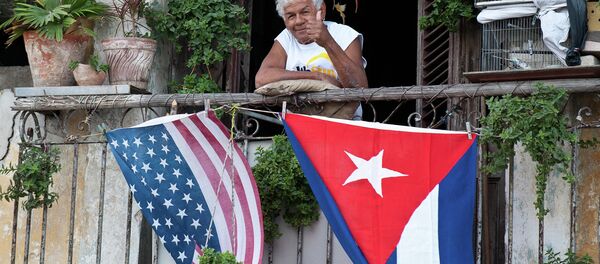 Key Cuban dissidents reported that they hadn't received invitations to the US Embassy events in Havana.
The United States severed official relations with Cuba and closed its embassy following Fidel Castro's overthrow of US ally President Fulgencio Batista and subsequent adoption of Marxism-Leninism, but kept an unofficial US Interests Section presence in the country.
US President Barack Obama announced in December 2014 that his administration would pursue a path toward normalizing relations with Cuba.