WASHINGTON (Sputnik) — Iran will likely produce hundreds of thousands of barrels of oil daily by the end of next year once international sanctions on Tehran are fully lifted, the US Energy Information Administration (EIA) said in a report on Thursday.
"Iran is also expected to increase production as sanctions are lifted," the agency's report read. "EIA estimates that Iran has the technical capability to increase crude oil production by about 600,000 b/d by the end of 2016."
The pace and magnitude, EIA noted, that will reach the market will be dependent on how quickly Iran can meet "conditions triggering sanction relief and how successful Iran is in production and marketing operations."
Most of the anticipated increase in oil production will likely occur during the second half of 2016, EIA added.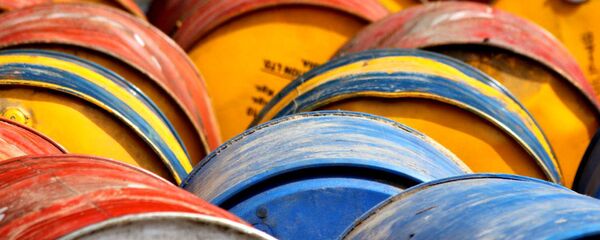 11 August 2015, 10:20 GMT
Iran's increased oil production, the report explained, would put "downward pressure" on overall global oil markets in 2016. Other oil producers — including members of the Organization of the Petroleum Exporting Countries (OPEC) — would likely have to cut production to accommodate the higher volumes of Iranian oil.
"These additional Iranian supplies, along with relatively higher global oil production and comparatively slower global oil consumption growth, will contribute to large inventory builds next year, resulting in lower oil prices than previously expected," the report said.
EIA also stated that the North Sea Brent crude oil price, which averaged $57 per barrel in July, is expected to rise to about $59 per barrel in 2016. The anticipated oil price was $67 per barrel prior to the conclusion of the Iran nuclear agreement.
"The pace of the sales of oil from storage remains highly uncertain and will depend on the pace of sanctions relief and the availability of customers for Iranian oil and condensate," the report pointed out.
If the agreement is implemented and sanctions relief occurs, EIA argued, "it will put additional Iranian oil supplies on a global market that has already seen oil inventories rise significantly over the past year."
On July 14, 2015, Iran and the P5+1 group of countries comprised of the United States, Russia, China, France and the United Kingdom plus Germany reached an agreement for Tehran to maintain its nuclear program for peaceful purposes in exchange for sanctions relief.