MOSCOW (Sputnik) — Earlier, Dutch television news service RTL Nieuws made a request under the Freedom of Information Act for details about the actions of Dutch authorities in the wake of the Malaysia Airlines crash in southeastern Ukraine, which was refused by the Ministry of Security and Justice.
"The fact that they refuse to release the report indicates that the report would point to the West being involved, or the Ukrainians at least, in the shoot-down of that plane," Black said.
The lawyer added that the Dutch government would have released that report weeks ago if they had proof that Russia or Donbass militias were involved in the MH17 crash.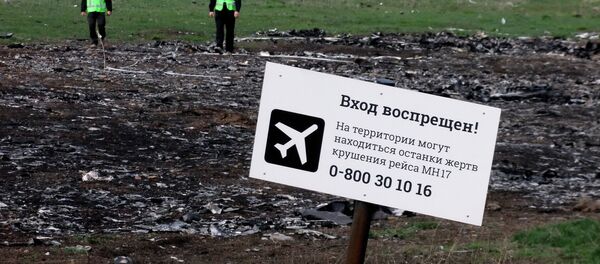 13 August 2015, 12:03 GMT
Malaysia Airlines Flight MH17 crashed in Ukraine's southeastern Donetsk region on July 17, 2014, when it was on its way from Amsterdam to Kuala Lumpur. All 298 people on board were killed in the disaster, 196 of whom were Dutch citizens.
A final Dutch Safety Board report is due in October. Its preliminary findings said the passenger jet broke up in mid-air after being hit by high-energy objects.
Moscow has repeatedly called on all parties involved in the investigation to disclose data on the MH17 Malaysia Airlines plane crash.