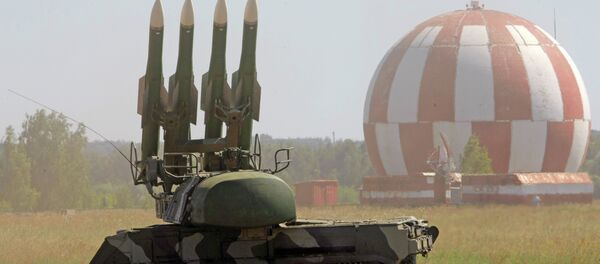 12 August 2015, 10:01 GMT
The Buk-M3 medium-range surface-to-air missile system, a modernized version of the Buk-M2 system, features advanced electronic components and a deadly new missile and could be regarded as a completely new system.
Developed by the Tikhomirov Design Bureau outside Moscow, the Buk-M3 is widely viewed as the world's best means of intercepting low-flying cruise missiles.
The system will be made operational before the end of this year and will enter active service in 2016.
The previous modification — Buk-M2, is currently regarded as one of the most efficient in its class.
The Buk-M3 system boasts a new digital computer, high-speed data exchange system and a telethermal imaging target designator instead of the teleoptical trackers used in previous models.
The Buk-3M's target-destruction probability has reached 0.9999 and its maximum destruction range has been increased by 25 kilometers and now stands at 70 kilometers.
A battery of Buk-M3 missiles can track and engage up to 36 targets simultaneously, while its advanced 9R31M missile is capable of knocking down all existing flying objects, including highly maneuverable ones, even during active electronic jamming.
The Buk-M3 can also engage sea and land targets, due to its vertical launch capability.
Meanwhile, the Tikhomirov Design Bureau is also working on compact phased array radars for MiG-29 fighters, Yak-40 training aircraft and UAVs.